How Smartphone Apps Are Reshaping Our Desires
David Freedman chats with readers about his cover story in the June Atlantic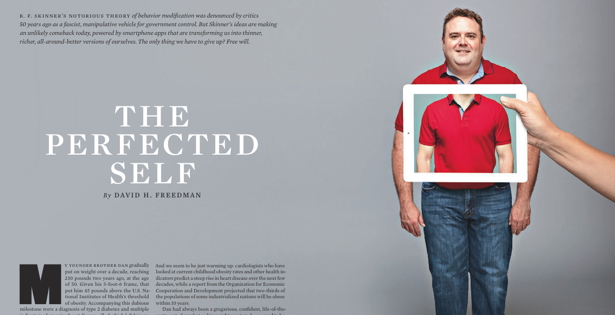 For those who have seen the Stanley Kubrick film A Clockwork Orange, the words "behavior modification" may conjure up images of the creepy protagonist with his eyelids propped open, forced to watch brutal films under the influence of nausea-inducing drugs. But as David H. Freedman explains in his June Atlantic cover story, the theories of psychologist B.F. Skinner have long been misunderstood. And they're now finding all new acceptance, thanks to smartphone apps that help people become perfected versions of themselves.

Freedman came online on Tuesday, May 29, at 3 p.m. to talk to readers about his story. The transcript appears below.
   
David H. Freedman:
Hi All, ready to begin in 2 minutes
   
doctorawed: 
Nowhere in Chomsky's critique of Skinner did I ever see a suggestion human beings were too smart to have any aspects of their behavior shaped by Skinnerean conditioning. Chomsky did argue that Skinner couldn't account for all aspects of language learning/acquisition, but that's quite a different claim.
   
Freedman:
Glad to be here, thanks for a good, tough first question!
Saying "we're too smart" is indeed a gross oversimplification--hey, space was tight. Chomsky made 2 big points re: Skinner. First, he said that humans have speech circuits in their brains that animals don't have, so Skinners' theories on how humans acquire speech can't be right.
Second, he noted that Skinner only did work on animals, so didn't really present any science on humans, and therefore his ideas about humans shouldn't be taken as serious scientific claims. I very roughly boil this down to, "It works on animals, maybe, but humans probably have too much special stuff going on in their big brains to succumb to training this way." The evidence shows overwhelmingly that Chomsky was dead wrong.
   
Rochelle: 
In working with adolescents who abuse marijuana, is behavior work best or education, and does the token economy work well with this age?
   
Freedman:
Behavior work can be seen as a form of education, it's not either or. If you mean just providing information, without any reinforcement, behavior analysts would say (and studies seem to show) that's not likely to be very effective. The token economy is a form of reinforcement-based behavioral modification that in some situations, for some people, works well to some extent. But there are many other ways to carry out effective reinforcement.
   
Joseph Jay Williams: 
I enjoyed the article a lot, it's very timely, and encouraging for people who struggle with health issues.
   
Freedman:
I'm glad you think so. The medical community for the most part is pretty much in agreement that health-related behavior change is the most important thing that needs to happen. People who do health-promoting things (eat healthy foods, exercise, don't smoke, etc.) are doing a lot more for themselves than anything modern medicine is likely to do for them.
   
Joseph Jay Williams: 
I do research on behavior change - I'm in cognitive science - and I'm curious whether you came across current researchers who you thought were advocating particularly effective principles, and whether there were particular apps or web-based programs you were impressed by. There's been discussion in the news about the potential (and concerns) about internet-based interventions. But I haven't seen articles that tried to synthesize some of the most important principles - it seems readers would be interested in that, but is that style of journalism just less appropriate for a magazine or newspaper?
   
Freedman:
I've been paying more attention to those researchers who are employing online and phone apps for reinforcement-oriented behavior change. There is also work that tries to directly address thought and feelings online, rather than behavior. Right now the studies are all over the place on whether these sorts of interventions are effective--and a lot of it depends on what's being measured. Self-reported changes in feelings? Self-reported changes in behavior? These are harder studies to get reliable, meaningful answers for--one big advantage to the strictly behavioral approach.
   
Freedman:
I've seen articles that try to synthesize some of the principles of online behavioral interventions (I quote a few in the article), but trying to say something smart about internet-based interventions in general would be tricky right now--the studies are still pouring in.
   
Luis De Avila: 
I'm a student of behavior change that's learned via the school of life. It seems to me that it may be too late for most people to change their health behavior... Are there any attempts to change the behavior of children that you find to be compelling or interesting in their approach?
   
Freedman:
I hope you're wrong about us adults not being able to change our behavior! I think I've seen quite a few do so. But I agree that we really ought to focus a lot of special attention on children. And yes, absolutely, there is a huge amount of work going on in that regard in behavior analysis. Although behavior analysis is best known for working with children with autism, it actually works in all facets of education with all children. Skinner himself was interested in general education, not special education.
   
Freedman:
I think just about any good teacher of students of any age (and parents!) intuitively use Skinnerian approaches of praising and otherwise rewarding students for doing some good, and ignoring (as much as possible) undesirable behavior.
   
Freedman:
Anyone here have experience with different sorts of diet approaches? I'm always curious to hear how people fare with different techniques.
I became interested in this whole subject when my doctor told me to lose 25 pounds. I tried Atkins, I tried cutting portions, I tried upping my exercise. I kept losing weight, and then falling off the wagon and putting it back on.
It wasn't until I started carefully tracking what I ate, establishing rigid habits, making small changes to them, and building in all sorts of rewards that I finally managed to slowly but surely shed the extra weight. That got me curious about why that worked so well...and to rediscovering Skinner.
   
Joseph Jay Williams: 
Here's a review article of behavior modification as applied to children: http://www.sciencedirect.com/science/article/pii/0273229781900058, if it's behind a pay-wall you can look on scholar.google.com to see if the author's posted a PDF online, or just ask any undergraduate at a university to access it through their library. This is a simpler explanation of applying the approach: http://www.ldonline.org/article/6030
Freedman:
Thanks for that.
   
Freedman:
The term "behavior modification" still sounds a little scary to many people. There's no clear definition to it, but somehow it seems like a form of controlling people against their will. Actual Skinnerian behavior change generally gently guides people toward behaviors they find more satisfying and helpful to their goals.
   
Joseph Jay Williams: 
One interesting point the CEO of Weight Watchers has made is that diets may sometimes be a bit off the mark. They represent the biological or medical approach that's often been taken to weight loss, where all the effort is spent trying to figure out the best and worst ways to consume calories. Instead, taking a psychological approach focuses primarily on the best and worst ways to build habits and help people change their environment so they start eating less. I think it's fascinating how we all acknowledge the important of what we think and feel, but analysis and creativity in changing that "psychological level" just doesn't jump out at people the same way the "biological level" does.
   
Freedman:
I agree that the concept of diets is problematic. Most people who adopt diets end up with diets that can't realistically stick with forever. It's not really about eating particular foods--it should be more about altering behaviors via small, easy, satisfying and rewarding changes. These are much, much easier to adopt, and more importantly to stick with
   
Natalie: 
Thanks for all this information. I heard your interview this morning on NPR, then got on The Atlantic's website to read more about it. I'm hoping that my husband and, each with our smartphones, can work together to increase our health and fitness ... and hey, strengthen our relationship, too!
   
Freedman:
I love the idea of losing weight together, and making it a way to reinforce your relationship!
   
Weight loss works much better when there's a social element of some sort. Humans are very wired to do things in concert with others. We need that support and validation!
   
Natalie: 
Also, I use behavior modification, a.k.a. positive reinforcement, with my pets all the time. It works beautifully for them. It's time I apply it to myself and my human relationships, too.
   
Freedman:
It sure does work great on pets. And this turns out to raise objections to using the same principles on humans--we shouldn't be "trained" like animals. Guess what? We're animals. We respond really, really well to training when it's done right--that is, with lots of well-chosen reinforcement and support. Why shouldn't we train ourselves, or allow ourselves to be "trained" if it has great benefits for our health and lives?
   
Luis De Avila: 
Yes. I would agree that the challenge for most of us is psychological. We know we need to exercise and eat healthily. We eat poorly for other reasons... like the ones I listed previously.
   
Freedman:
It seems to us that our thoughts and feelings are super-important, and are calling all the shots. And yet behavior analysis manages to get good results without really paying much attention to thoughts and feelings. It's hard to say why that is (though there are many theories), but it's pretty well established. The record isn't really strong for getting people to change behaviors long term by focusing on thoughts and feelings
   
Joseph Jay Williams: 
I'm not sure if this is problematic for you as it might count as an endorsement, but which apps or web-based programs might you suggest people check out? I think seeing examples of good ones would be a great way to internalize these ideas.
   
Freedman:
I mention some in the article. A few I don't mention there, but think are very good: SparkPeople for weight loss, and Joe's Goals for doing almost anything. I've played around with Joe's Goals myself, and found it very effective for getting myself to do a bunch of work-related, financial and home-chore tasks that I habitually neglected.
   
Alison: 
Hi there. I'm interested in your implication, toward the end of your story, that people aren't as paranoid anymore about Big Brother watching us and controlling our lives. I think most people just don't care that much if these apps are gathering consumer information, just like they don't really care that Google is targeting ads based on their private emails. Do you think we're being naive nowadays? Or do you think people were overly paranoid in the past?
   
Freedman:
Both! I think we used to be overly paranoid about government intrusion (not that there wasn't some historical reason to react that way), and today we're a little too loose with our personal info. I know I am. I'm amazed at what I'm willing to share with companies these days.
   
Natalie: 
Very, very interesting what you've written about reducing focus on thoughts and feelings. Can you point us to some articles about this concept?
   
Freedman:
This is a huge topic! How about emailing me at dhfreedman@gmail afterwards, and I'll point you to a few that would at least get you started. And certainly reading Skinner himself would be a good intro to the subject. I recommend the book, About Behaviorism.
   
Elizabeth: 
I recommend poverty and heartache. I lost sixty pounds in a year, with no other deliberate behavior modification, and I've never looked better. It seems to me that this question is usually posed by those whose primary goals are to be rich and successful. That's different.
   
Freedman:
I have heard that sort of thing before--clearly, some people are naturally led to weight loss when the world around them turns harsh from their point of view. And yet many others have exactly the opposite reaction--they overeat when they're miserable.
   
Laurie: 
Are there smartphone apps that could help teenagers take control of their own lives, helping them get better grades or develop better lifestyle habits? Or would these not work, because they'd have to WANT to want to be better? (I.e., if they're in a rebellious phase of life, maybe there isn't much that can be done about it, even a cool iPhone app.)
   
Freedman:
Teenagers can always be tricky to work with, regardless of the approach, because so many changes are going on in their lives. But absolutely, reinforcement techniques via Smartphone should be able to help. I've seen studies of apps that address certain dangerous behaviors, with some success, but these are still a work in progress. We can certainly see teenagers are way into social apps, though, suggesting there's a lot of potential there.
Freedman:
The notion of "wanting" to change is a complicated one. Many people seem to very badly want to lose weight, but can't (at least using most approaches). Others seem to shed weight when they're not particularly interested in doing so. So it's not necessarily a critical factor. But there's no question some people need more help than others, and some people are more willing to get and accept that help than others.
   
Freedman:
Surveys suggest that a huge percentage of the obese population either doesn't acknowledge their obesity, or don't seem particularly concerned by it. So as a public health matter, giving people an effective means for losing weight and keep it off won't by itself solve obesity. We either need to find a way to motivate the others to jump on board, or else change the environment on their behalf so that the weight loss happens easily and naturally without their having committed to a weight loss effort.
   
Elizabeth: 
I live in what many people would call a ghetto, and I can attest to that. Healthy food is hard to come by and expensive. In addition, for women in particular, some extra weight is a security blanket. The constant attention can be grueling. It can be dangerous.
   
Freedman:
Access to healthy food choices is a problem that needs to be solved--here in the US, and all over the world. It won't necessarily fix obesity--plenty of people are obese where healthy food abounds--but it will be a big and necessary step in the right direction. I think a lot of people are thinking about how to solve this problem--I'm working with a big group at McGill University that's looking at all kinds of potential solutions.
   
Natalie: 
When it comes to my behaviors regarding food, what has seemed to help most is to view the behaviors as addictive, and then act accordingly. I'm wondering about your views on working with addictive behaviors combined with positive reinforcement.
   
Freedman:
I think there are certain advantages to treating eating behaviors as addictions--they have much in common with alcoholism, smoking and narcotics abuse. But there are significant differences, too--we all need to eat to live, but we don't need to smoke to live, for example. But in the end, I recommend sticking with whatever works. Overeaters anonymous takes a 12-step approach to eating, and I think it's a good program. Many other programs stay away from addiction metaphors, and yet work well also.
   
Alison: 
Do you think people could become too dependent on apps like these? If you have a tendency toward addictive behavior, I can see how using these apps and micromanaging your every move could become addictive in itself.
   
Freedman:
A great question. I guess it could become obsessive and get out of hand at some point. But so far I haven't seen much evidence or even many anecdotes to suggest that these tools are likely to become anywhere near as big a problem as the problems they're designed to solve
   
Jacquie: 
I am someone who's maintained a 65lb weight loss for 5+ years, so I have some experience in this area.
   
Freedman:
One thing that worries me (and much of the weight-loss community) is that pushing these great tools for weight loss will increase the number of people who are underweight. I don't know how to address that risk. I think there's general agreement that obesity is a much, much wider and costly problem than (for example) anorexia, but that doesn't mean that it's OK to raise the risks of the latter.
   
Jacquie: 
Sorry, sent permaturely! To continue my point...I personally don't like rigid food tracking and measuring. It's too easy to fall off the bandwagon because these requirements feel confining and time-consuming. For me it was much better to learn how to make better choices: eat dark chocolate instead of cake, eat veggies with dinner instead of pasta, etc. If you make better food choices you will naturally eat fewer calories and lose weight. Personally I am a big proponent of reduced-carb diets because they reduce cravings, but that doesn't work for everyone. My main point is that I think a lot of people will eventually fail using the food diary system.
   
Freedman:
I'm actually with you on that one, for me personally. I lost the weight using Skinnerian principles, but I didn't and still don't track calories. Instead, I learned to stick to certain foods and eat with certain bowls so I could judge how much I was taking in at a glance. That makes it harder for me when I eat out, though. For most people, tracking seems to be the way to go--especially given how easy the smartphone apps make it. And it's going to get easier and easier as the apps get better.
   
Freedman:
Well, folks, looks like my hour is up--and a bit more. Thanks for these great questions! Feel free to email me at dhfreedman@gmail.com. For those of you trying to lose weight or otherwise change problematic behaviors--good luck, you can do it!