Harlem's Hidden HIV Epidemic
Although awareness of HIV is widespread in the New York neighborhood, translating knowledge about safe practices into action is a different story.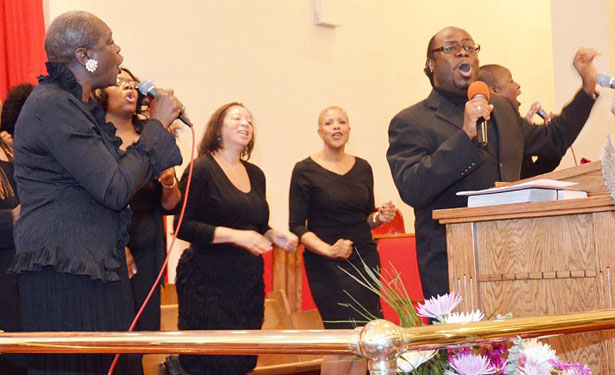 The gold reception room in Canaan Baptist Church of Christ in Harlem seemed very large one Saturday afternoon, with about a dozen people sitting inside, praying and recalling those who had died of complications from AIDS.
The few people filled out paperwork to get tested for HIV in a van that waited outside, while a man with HIV lectured the small audience on the virus. When asked the ways in which the virus is spread, a man in the audience incorrectly said "saliva." Others were surprised that people with non-detectable HIV, meaning the virus is under control, can still pass it on to others.
The Vivian L. Potter HIV Ministry, an HIV and AIDS activist group within the Canaan Baptist Church of Christ, usually has as many as 100 guests at its events, says Babette Hudson, the chair of the organization. It was the day of Whitney Houston's funeral, and she says she believes people stayed home to watch. The small turn-out made no difference to her, though.
"If you touch one person, it's good enough for me," Hudson says.
The HIV ministry has been operating since the early 1970s.* When the program first began, the pastor at the time, Reverend Wyatt T. Walker, thought it was important to have an HIV ministry because the epidemic had an impact on the African American community. Today the program organizes prevention-based outreach events to educate the Harlem community.
"We began to do a lot of funerals here at Canaan for people who died of the virus," Hudson says. "We began to lose a lot of members, particularly in our male chorus because a lot of them were MSM's [men who have sex with men]."
Hudson says many of the churches in Harlem are just as active as Canaan, and dismisses the myth that African American churches don't talk about HIV and sex.
"Yes, we do talk about condoms. Yes, we do give out condoms. Yes, we do talk about sex," Hudson says. "I would say that myth goes back to my mother, my mother's generation--and my mother's 80 years old. There was a time when there were things you didn't talk about. Churches were the places you went to worship God and you went home, but as society began to change, as the issues began to change, it was taken for granted they just didn't talk about it."
* * *
The adherence rate for taking HIV medicines in Africa is much higher than it is in the U.S., says Dr. Monica Sweeney, the assistant commissioner for the bureau of HIV/AIDS prevention and control at the New York City Department of Health and Mental Hygiene. People with HIV and AIDS in Africa don't have the safety net people have here, she says, and they take the medication to get healthy and to sustain themselves.
"In the U.S., in New York City, if you are HIV positive, the care, support system and medications are available--so why are people coming to get treatment when they already have AIDS?" Sweeney says. "We are going to continue to do primary prevention to keep people from becoming positive with a disease that's almost 100 percent preventable."
She says despite an increase in HIV education, the number of people testing too late is still quite high. One in 4 people already has AIDS when they get tested, she says, and health experts now know the sooner a person gets treatment, the better their health.
On the other hand, when people test negative, they believe it justifies having unsafe sex, Sweeney says.
"It emboldens women to continue having unsafe sex," she says. "Many people know what to do, but they don't put into practice the methods they know."
Rob "Simply Rob" Vassilarakis is currently the outreach specialist and intake coordinator for the day program at El Faro adult daycare center -- an outfit operating under Harlem United, a community-based organization offering support to people living with HIV and AIDS. He reaches out to other organizations and medical providers, in hopes of recruiting new members to enroll in the day program.
Vassilarakis, whose family is from El Salvador, sometimes wonders if all the effort being done in the community to fight HIV and AIDS will actually break through the walls of ignorance and denial about the disease, as well as people's feelings about homosexuality.
"I think there's still a lot of denial about how relevant HIV is. I think people tend to associate HIV as being a gay disease or something that junkies do or this is God's wrath," he says. "In a lot of Latin religious circles, I think people think this is the plague people talk about in revelations. I think there is a lot of stigma and people need to wake up because HIV knows no borders."
Until his mother read his journal and found out he was gay, Vassilarakis lived a double life. He didn't want his family or friends to know about his sexuality because he was afraid of how they would react.
Two years after his mother threw him out of the house, he dated the man who introduced him to crystal meth and gave him HIV--knowing he had the virus.
"I was kind of promiscuous. I dated him, but we weren't in a monogamous relationship, and I knew that he was involved with others as well," Vassilarakis says. "I was feeling invincible I guess. There are some sexual practices that are more risky than others, and in some way I thought I was not really....I wasn't really practicing the riskier types of sex. I thought I was not going to be exposed, but I was."
He tested positive in 1993, just shy of his 23rd birthday. Vassilarakis says the doctor assured him that the test would come back negative, and he could see that the doctor was distraught as he walked into the room to tell him that the results were positive. It was the first time the doctor had to give anyone a positive status, and Vassilarakis says he was upset that he had to give one to someone so young.
The doctor told him that he had approximately seven years to live, but Vassilarakis refused to go on medication, and today he believes it saved his life; he feels that the medications in the early '90s were toxic.
In the years to come, he was homeless and living on the street, high on crystal meth and suffering on a daily basis. Vassilarakis didn't know where he was going to sleep at night, or where his next meal would come from. He says the only purpose of the day was to find out where his next hit and next hookup would come from. The turning point came when he found himself alienated from friends and feeling very alone.
"I thought to myself, 'I can't believe I lived 36 years to live like this, literally stinking with the clothes on my back," Vassilarakis says.
In 2006 he checked into rehab, and then found Harlem United, which gave him the opportunity to speak about his issues. Vassilarakis says he had reached a point in his life where he needed to let everything out.
Even though he has improved his life, he is still estranged from his family. However, Vassilarakis says he doesn't wish to reunite with them--he now calls his best friends his family.
"You don't choose what family you're born into, but you absolutely choose who you surround yourself with," he says. "I love where I am in my life, and I love the people I have around me and they've accepted me, and most of the people I have in my life are not even gay; they are straight people who accept me regardless."
Vassilarakis' mother has made attempts to reach out to him recently, but he is very hesitant to reach out to her. Even though he has forgiven her, he hasn't forgotten that a lot of his problems were caused by his mother's abandonment. Vassilarakis' life is going well, and it has been a long time since he has had to deal with his issues with his mother.
"I've learned how to live without her and the family," he says. "I've made my peace with it."
* * *
New York City's Sweeney says she believes community outreach is effective because New York used to be 19 percent of the epidemic in the United States, and it's dropped to 14 percent.
But HIV organizations in Harlem say the rate of HIV is still too high, primarily because people have an attitude that they cannot get the virus. However, it's not for a lack of outreach that the rate is so high, they say.
Harlem United focuses on HIV testing, says Kimberleigh Smith, the group's senior director for state and local policy. The organization has spent the past few years amending the public health law in New York State so that more people can get tested as a routine part of their medical care. Now, any time a person between the ages of 13 and 64 visits the doctor, the doctor is required to offer an HIV test.
"Just deciding you should have an HIV test based on, maybe you're gay, or whether you're black, is outdated," Smith says. "To really combat HIV you need to get as many people tested as possible in a routine way, and it needs to be a part of their medical health care."
She says in New York Medicaid is successful at providing people healthcare and there is also an AIDS drug assistance program in the state. While there are waiting lists in other states, Smith says, there aren't any in New York. However, she says there are still many people who don't know how to use the public healthcare system.
"From the onset poverty can shape how you access health care, how you understand your own health," Smith says. "Poor people are less likely to get what they need."
Recently, many faith-based organizations have joined the fight and created outreach programs, some of them funded by the Black Leadership Commission on AIDS.
"Many more houses of worship are involved in this initiative, partly because we created a space for them and we actually help them help themselves develop a curriculum and a language," says Deborah Levine, who has been involved in the public health industry since 1986, and is a part of a program called the New York City Council Faith-Based Initiative. "If people aren't properly trained to understand how the virus is spread that's how you get people spreading misinformation."
Levine says it's important to break down the walls of stigma, engage HIV-positive people in the community and get them the help they need. She says that HIV is becoming more accepted in the faith-based community, but talking about sex and sexuality will always be a challenge.
"Creating safe spaces where people can talk about sexual practices and how they stay safe--and who better than our houses of worship to be the center of good knowledge and good stewardship?" Levine says.
Levine says the HIV rate in Harlem is too high across the board. Activists in Harlem are still struggling to convince people to get tested. She says in some cases people don't want to know their status, either because they don't want others to think they are gay, bisexual or transgender, or that they are promiscuous.
Levine also says many people still don't go to the doctor on a regular basis because it is too expensive. If a person is living paycheck to paycheck, she says, he or she has to strategically figure out when the best time to visit the doctor is, and it's usually when they are very sick.
"As much as things have changed, it's still frustrating that we still have rates of infection in the African American communities that are so high," Levine says. "But to me that's around the social drivers. That's around not having access to clean affordable housing. It's contributed by poverty. Numbers soar because of lack of education."
Smith of Harlem United says a person is more likely to get HIV if they live in an area like Harlem, where the rates are so high.
"If you're an ordinary person and your social or sexual networks are in the neighborhood you're more likely to get HIV," she says. "It doesn't mean you're more promiscuous, it doesn't mean your behavior is any riskier, it just means that you're more likely to get HIV because there's more HIV to get."
---
*Although HIV wasn't discovered until 1981 in the United States, Vivan L. Potter HIV Ministry chair Babette Hudson confirms that her outfit was operating by the 1970s.