Flickr/Zach Klein
Bipolar disorder can be an exhausting, nerve-wracking condition for patients and their families alike. In an excerpt from This Fragile Life, two parents learn of their son's illness. The book will be available in bookstores June 1.
Exactly one week later, returning home after dinner with friends, we found a voicemail message from my father in Washington, DC.
"Charlotte, where are you? I think Mark is in trouble," he said. "You need to call me." His voice sounded urgent. I called immediately. My father was not an alarmist; I knew he was worried. Mark had called my father when he could not reach us, and they had talked for almost an hour.
"I couldn't get him to stop talking," my father reported. "When I tried to ask him questions, he didn't seem to understand. I . . . I don't know, honey. He sounded really strange. He wanted to talk to you; he explicitly said, 'I do not want to talk to my father.' You need to call him. Here's the number."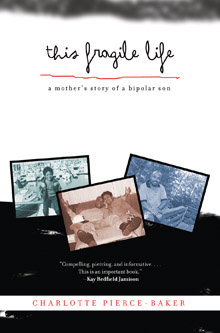 I stopped shivering and calmed myself enough to dial. Houston sat nearby for support. Could Mark be in trouble? We had no idea what it all meant.
When Mark answered at the unfamiliar phone number, I asked immediately, "Mark, where are you? Why are you using this strange number?"