Engineering a More Nutritious Banana
Enhancing the humble fruit could be an efficient way to improve global health.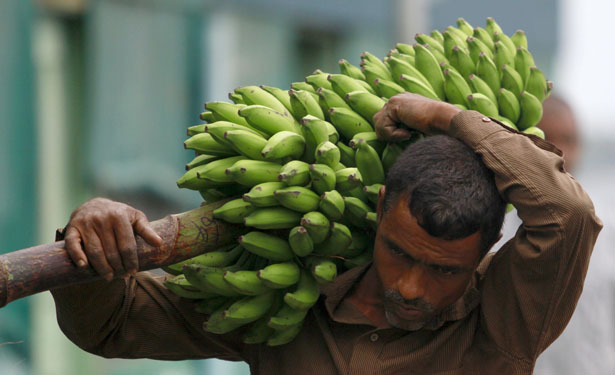 Dinuka Liyanawatte/Reuters
Ever since Norman Borlaug revolutionized the world's food supply by designing a hardier strain of wheat, scientists have been fascinated with the idea of engineering their way to foods that are even healthier than their natural cousins. We now have access to herbicide-resistant corn, tomatoes that are ever-ripe, calcium-fortified orange juice -- even rice that's high in vitamin A.
The latest product to get this treatment? Bananas. That's right: the humble fruit that comes mostly from overseas is about to get a serious makeover, if Australian researcher James Dale is successful:
India and Uganda are the top two banana producers in the world. Ugandans eat more than two pounds of bananas daily, and in India, especially in the south, bananas are a crucial component of a mostly vegetarian diet. But those [countries'] banana varieties, which are starchier than what we pick up at the grocery store, are woefully low in nutrients. By packing more nutrients into a package so many already depend on, Dale feels we could put a significant dent in a major health problem.
Using genes from a type of inedible banana that's incredibly rich in vitamin A, Dale says he's managed to increase the average banana's vitamin A content by a factor of four -- enough to provide half of a person's recommended daily intake. But he's not stopping there. Since iron deficiencies are also a major problem in developing nations, Dale is trying to figure out how to make banana trees suck up more of the metal from the ground and move it into the parts of the plant we eat.
I'll withhold the predictably bad jokes about "low-hanging fruit." But Dale's research is one more step in the quest for efficient gains in global public health, if it can avoid the backlash that golden rice and other biotech-reliant crops have encountered.