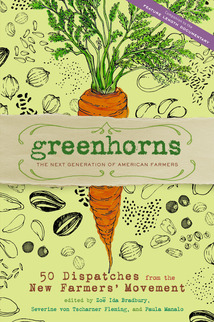 Last week at market a customer complained about the price of our dill (two dollars for a not-huge bunch). He said the price was an outrage, but he was smiling, so I was too confused to ask why he was going ahead and buying the dill, or even how he'd arrived at his notion of its value.
This is not an unusual occurrence; every week at market we get at least one or two potential customers who shake their heads in dismay at a $2.75 head of lettuce or a $4.00 pint of strawberries. Sometimes I engage in conversation, sometimes I don't. I try not to get defensive, and I frequently encourage a customer not to buy the product, offering suggestions of where to find cheaper food, either at the market or elsewhere. I do my best not to reveal that the value of our produce is a question that regularly fills me with a tremendous amount of anxiety.
What is a carrot worth? A bunch of kale? A handful of berries? Too often, I find myself on the tractor making quick calculations in my head. For a bed of carrots, there are the soil amendments, the cover crop last fall, the chicken manure, the organic fertilizer, the plowing, tilling, seeding, irrigating, thinning, weeding, harvesting, washing, bunching, packing, and selling. Plus the cost of the tractors, implements, and fuel. Plus the cost of childcare and preschool. Plus, somehow, all the time spent on the computer (where does that fit in)? And I haven't even mentioned the cost of the land (hundreds of thousands of dollars, in our case). The sheer number of labor hours and material and property costs that went into helping this soil produce these carrots. I ought to shellac the carrots and hang them on the wall.