Study of the Day: Strict Parenting and Same-Sex Urges Lead to Homophobia
New research in the Journal of Personality and Social Psychology suggests that anti-gay prejudice may stem from restrictive upbringings and repressed homosexual desires.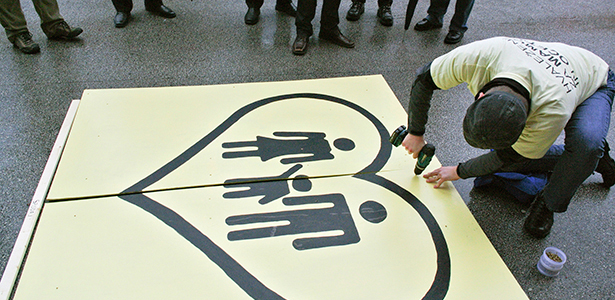 PROBLEM: Time and again, stridently anti-gay public figures like Larry Craig and Ted Haggard are caught in same-sex scandals. Is there a relationship between homophobia and homosexuality?
METHODOLOGY: Researchers led by University of Essex lecturer Netta Weinstein looked into the discrepancies between the overt and implicit sexual orientation of participants in a series of experiments. In one of them, a split-second timed task, the scientists first subliminally primed the subjects by flashing either the word "me" or "others" on a computer screen for 35 milliseconds. They then showed the participants words like "homosexual" and "heterosexual" as well as pictures of straight and gay couples, and measured how quickly they could place these in "gay" or "straight" categories. A faster association of "me" with "gay" and a slower association of "me" with "straight" indicated an implicit gay orientation. The authors also inquired about their attitudes toward anti-gay policies and the type of parents they had growing up.
RESULTS: Across all of the experiments, the subjects with supportive and accepting parents were more in touch with their implicit sexual orientation, while those from authoritarian homes revealed the greatest discrepancy between explicit and implicit attraction.
CONCLUSION: The fear, anxiety, and aversion that some seemingly heterosexual people hold toward gays and lesbians can grow out of their own repressed same-sex desires, says co-author and University of Rochester psychologist Richard Ryan in a statement. "In many cases these are people who are at war with themselves and they are turning this internal conflict outward."
SOURCE: The full study, "Parental Autonomy Support and Discrepancies Between Implicit and Explicit Sexual Identities: Dynamics of Self-Acceptance and Defense," is published in the journal Journal of Personality and Social Psychology.