Study of the Day: How the Fear of Not Having Enough Food Leads to Obesity
New research suggests that, when food-insecure mothers regulate consumption, children don't learn how to stop themselves from overeating.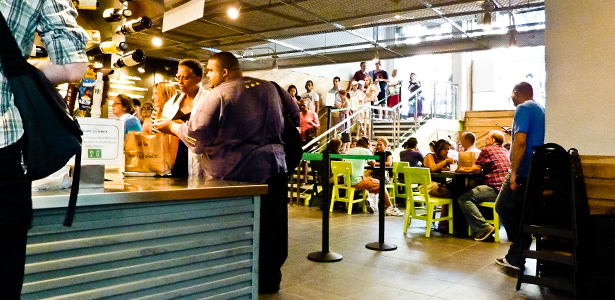 PROBLEM: Though worrying about not having enough food is common in low-income families, few studies have explored how this food insecurity leads to children's weight gain. That is, why are kids from poor households so often overweight?
METHODOLOGY: Since previous studies have shown that the feeding patterns leading to obesity often begin in infancy, researchers in New York led by Rachel Gross focused on 201 mothers from impoverished families with babies younger than six months for their study. They asked the respondents about their concerns about their child's weight, if they regulated their infant's food intake, and how they fed their baby (e.g., breastfeeding, adding cereal to the bottle). They also assessed their level of food insecurity using questions from the Core Food Security Module (PDF).
RESULTS: About a third of the subjects worried about their next meal. These food-insecure mothers tended to be more concerned about their child becoming overweight and to have controlling feeding habits that have been shown to increase childhood obesity. More precisely, they restricted their children's intake even when they were still hungry or pressured them to eat more even when they were already full.
CONCLUSION: A food-insecure mother's controlling feeding styles and heightened concern about future excess weight may set her child on the path to obesity.
IMPLICATION: Parents who control what an infant eats may be disrupting their kid's growing ability to regulate his or her own hunger and fullness, leading to overeating and weight gain. Gross says in a statement: "In addition to addressing hunger and malnutrition, it is critical that policy efforts be made to work with food-insecure families to prevent the opposite problem -- obesity."
SOURCE: The full study, "Food Insecurity and Obesity-Promoting Maternal Infant Feeding Styles and Practices in Low-Income Families," was presented at the recent annual meeting of the Pediatric Academic Societies and has been accepted for publication in the journal Pediatrics.