So This Is Why Men Love Guns: Holding One Makes Them Look Taller and More Muscular
New research from University of California, Los Angeles, finds that enemies appear bigger and stronger when brandishing a weapon.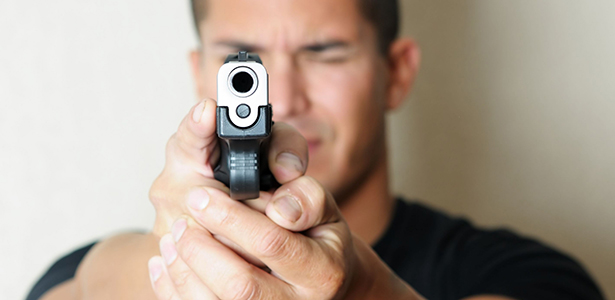 PROBLEM: Recent research demonstrated how holding a gun makes a person think others are too. But what about the opposite -- that is, how do people perceive the pistol-packer?
METHODOLOGY: University of California, Los Angeles, anthropologists led by Daniel Fessler asked 628 online respondents to guess the height of four men based solely on photographs of their hands holding either a caulk, electric drill, large saw, or handgun. They also showed photos of progressively taller and pictures of increasingly more muscular men, and asked the subjects to estimate which images came closest to the probable size and strength of the hand model.
RESULTS: The participants judged the men who were holding a gun to be taller and more muscular than the men with the other objects, even though the hands of the models were all the same size. On average, they judged pistol-packers to be 17 percent bigger and stronger than the ones holding the sealant, who were considered the wimpiest of the bunch.
CONCLUSION: Brandishing a weapon makes a man look more formidable than he would otherwise.
IMPLICATION: We may have an unconscious mental mechanism that projects our assessment of a potential threat in terms of the size and strength of our adversary. "There's nothing about the knowledge that gun powder makes lead bullets fly through the air at damage-causing speeds that should make you think that a gun-bearer is bigger or stronger, yet you do," says Fessler in a statement. "Danger really does loom large -- in our minds."
SOURCE: The full study, "Weapons Make the Man (Larger): Formidability Is Represented as Size and Strength in Humans," is published in the journal PLoS ONE.