Rapid Thinkers Take Greater Risks
Speeding up your rate of thought makes you more accept more risk. Are you feeling lucky?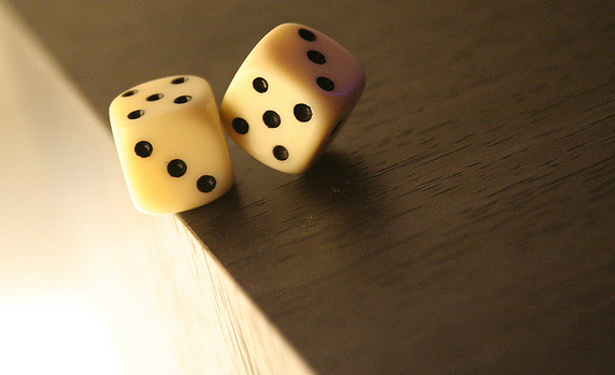 Flickr/topher76
Pop quiz: do you consider yourself a fast thinker or a slow thinker? Time's up! If you took less than a second to answer that, you might be more of a risk-taker.
That's according to new research (via Psychology Today) from a team of Princeton scientists who thought there might be a causal relationship between the speed of a person's thought and their willingness to embrace dangerous behavior, such as illegal drug use and unprotected sex.
The researchers, Emily Pronin and Jesse Chandler, ran two tests in a study that appeared this month in Psychological Science. Participants were divided into two groups. One group was primed by being asked to read a set of trivia statements at twice their normal reading speed, while members of the other group were asked to read the same statements at half-speed.
All the participants were then told to play a standard game that's used to determine risk acceptance. Called the Balloon Analog Risk Task, the game connects a physical button to a computer screen. Each time a player presses the button, a balloon projected onto the screen inflates a little, and the player earns a bit of cash. The balloon will obviously pop if it's over-inflated, but the players have no way of knowing when they've reached that point. If the balloon pops, the player loses all his money.
Study participants who'd been primed for fast thinking exhibited a greater appetite for risk. Compared to those who'd read the trivia statements at half-speed, the fast thinkers pushed the button to inflate the balloon more often. They also inadvertently popped more balloons. In a second experiment, the researchers played video clips of nature scenes at different rates. Those who'd watched videos with less time between cuts reported greater willingness to engage in risky behavior.
So the next time you're in a situation that demands some bold -- or even brash -- action, try psyching yourself up beforehand.