Nostalgia is usually only delicious (Peeps!) and sometimes nutritious (brisket!)
 
While doing pre-holiday errands, which included an early-for-me trip to accountant's, I encountered that madeleine for Northeastern Jews: a tin of Barton's Almond Kisses. Just two years ago, Jeffrey Yoskowitz declared the company dead, but here was a clearly new tin, the chewy little caramel squares individually wrapped in a plastic square that Kenn, my accountant, and I agreed was far less satisfactory to unwrap than the little logs we had to twist open as kids. Here's the order page, if you want some to tide you through the waning days of Passover--or to inspire you for a last-minute seder gift tonight.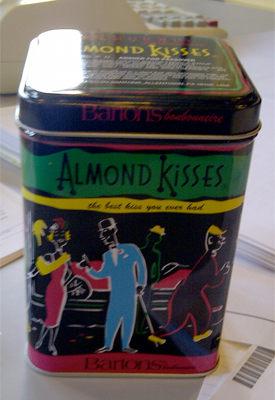 I had just come, as it happens, from my regular gig at WGBH on the Emily Rooney show, for which I arrived in the studio with what I thought was a very special gift: an assortment of Peeps in many, many lurid, fluorescent colors that suggest, depending on your associations, spring, Easter, and the fun of dyeing beautiful Easter eggs with enthralled little children or cleaning fluid, chemicals, and food fit only for a bomb shelter. Rooney, it turns out, is firmly in the second camp. Our main subject was to be pink slime, which the Health Channel has covered extensively, notably Marion Nestle's masterly summary of the real questions, far beyond whether it's safe or not, that the current furor raises (point worth constantly mentioning: why don't we encourage a food-processing and animal-raising system in which ammonia cleansing isn't necessary) and Ari Levaux's pointing out that icky as pink slime may be, at least it doesn't contain spinal fluid, which pork products and chicken nuggets might. I call that "white slime." We'll see how much traction that gets.
Rooney was having none of the Peeps. As soon as the segment started she said, looking at the package I had thrust before her, "I don't know which is worse: pink slime or pink Peeps." Fine, the more for me--I've declared my unashamed love of Peeps here (bonus adorable picture of pink Peep)--and for the delighted producers of the show. Who insisted on putting a blue Peep on my shoulder for the link to the segment, which includes a recipe for brisket from, of course, our Stephanie Pierson's Brisket Book, the better to welcome in Passover.
Two more ways to welcome it in: by reading the "Nation" essays by Jeffrey Goldberg in the new Foer-Englander haggadah, which will revive any seder made logy by too much brisket and Barton's almond kisses (the whole book, confusingly laid out and user-unfriendly as it is, is worth it for Goldberg on the meaning of the afikoman)--and by watching him and me kibitz while watching Joan Nathan make gefilte fish, a video that always reminds me of how much nicer it is to eat homemade gefilte fish than it is to try to make it. Happy Passover! Happy Easter!
We want to hear what you think about this article. Submit a letter to the editor or write to letters@theatlantic.com.
Corby Kummer
is a senior editor at
The Atlantic
and the executive director of the Food and Society policy program at the Aspen Institute.