Our Collective Eating Habits, in One Interactive Graphic
What one app's data-mining teaches us about our diets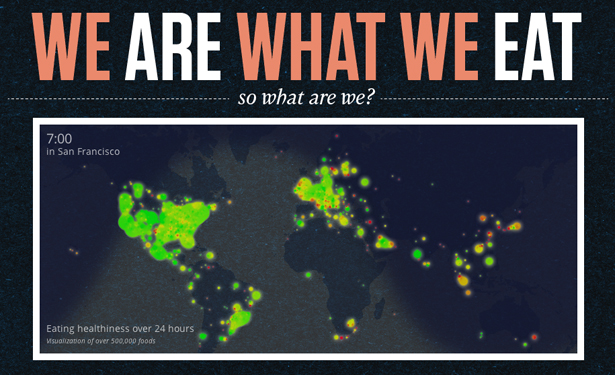 Massive Health
What did you eat for breakfast today? Cereal with a splash of milk, maybe? A toasted bagel with cream cheese? Was there fruit involved? Whatever it was, chances are it was healthier than your lunch, and your lunch will probably be better for you than whatever you're planning for dinner.
That's according to data gathered by the diet monitors at Massive Health, whose app, Eatery, lets users take pictures of their meals as a way to gauge their eating habits. Fit or fat? Are you overloading on carbohydrates and red meat? The app -- and your fellow users -- will say so.
The best part about Eatery, and what sets it apart from other nutrition apps, is that it takes the data everyone provides about their meals and crunches it all to find broad patterns in the way we feed ourselves.
Massive's put together a neat interactive visualization of Eatery's data that reveals a number of intriguing patterns. Chief among them is the gradual shift over the course of the day, at least in Western countries, from early healthy meals to late-night binges on junk food. As you move your mouse across the map, the spots of green that indicate good-for-you meals fade to yellow before turning into splotches of red after nightfall. This pattern holds whether you're in Paris or Philadelphia.
Another interesting pattern is that the U.S. grows far redder than Europe ever does. That Americans eat poorly compared to Europeans is little surprise, but the colors put it into sharp relief.
Other findings from Massive's data mining:
The healthiness of our meals decreases by 1.7 percent every hour of the day.
New Yorkers drink 6.7 times the amount of coffee that people in other cities do.
People are 57 percent more likely to be obese if their friends are obese.
These figures are based on self-reported data coming from people who can afford smartphones, but even so, it's a novel attempt at trying to understand global nutrition.