Obesity Makes Us Waste More Than a Billion Gallons of Gas Every Year
The condition is worsening our pain at the pump at a time when gas prices are nearing $4 a gallon.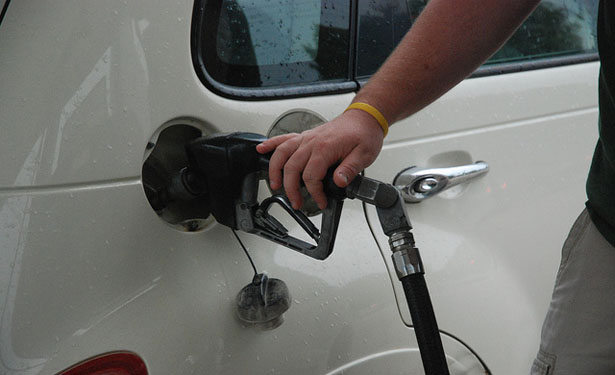 Flickr/KOMUNews
The health costs of obesity are well known: more frequent hospital visits, greater reliance on prescription drugs, a heightened risk for diseases like diabetes. What's less well known are obesity's economic costs. How much of a burden does obesity put on public infrastructure? On GDP? On the federal deficit?
Changes in gasoline consumption offer a lens for the scale of this larger question. Thanks to the startling rise in obesity, every year Americans consume at least a billion gallons more gas today than they would have if people were as trim as they were in 1960. For every additional pound of passenger weight, the United States uses up another 39 million gallons of fuel each year.
Those results come from a 2006 study on obesity and driving habits, when over a quarter of the populations in 21 states were obese. Since that time, the number states for which that figure holds true has ballooned to more than 35. In 12 states, more than a third of the population is considered obese. So it's likely the United States has come to waste even more than a billion gallons a year in the six years since that study was published.
Heavier people means heavier cars -- and the previous decade's boom in gas-guzzling vehicles with poor gas mileage to start hasn't helped. In fact, research suggests that the more car-dependent a society becomes, the greater the likelihood of its members becoming obese. It's an alarming feedback loop that demands not only healthier eating, but also smarter urban planning. Obesity isn't just a personal lifestyle problem -- it's increasingly becoming a national challenge with real implications for the country's economic well-being.
Update: If we're counting, a billion gallons of regular unleaded costs $3.87 billion at current prices.