The beige, plastic wand was shaped like an electric razor. It slowly massaged my neck while beside me, on a screen, black and white images representing my carotid artery pulsated gently. I watched as the artery moved slightly as I breathed. After a few seconds, the wand turned 90 degrees, and the images on the screen changed from a cross-section of my artery to a side view. Then the wand disappeared entirely.
"That's it -- we're all done."
That's it? The ultrasound gel hadn't even warmed to my body temperature yet. It couldn't have been more than half a minute from the time the first images showed up on the computer to when I was wiping my neck down with paper napkins. And yet, with a few more taps of a touchscreen, I was being presented with a detailed report of my very own arterial health. That's the image of my ultrasound you see above.
The screening procedure I underwent at TEDMED, a three-day conference on health and medicine, represents the latest in technological innovation when it comes to diagnosing heart disease risk. The ultrasound device, which was developed by Panasonic overseas before being approved for use in the United States last year, is gradually making its way to American doctors' offices. If Panasonic's technology becomes widespread, it could help save up to $20 billion a year in healthcare costs when combined with other steps to reduce the risk of heart disease, estimates Steven Lynum, the director of clinical projects. And the best part? It's painless, non-invasive, and supremely efficient.
"What was once a 40-minute process now takes 40 seconds," said Lyman.
With the readouts on the screen as a guide, doctors will be able to tell if a carotid or femoral artery has plaque in it. The computer is also smart enough to determine from the ultrasound image where the walls of the artery are, and how thick they've become -- arterial wall thickness being an important risk factor for heart disease.
Unfortunately -- or fortunately, depending on your point of view -- my report turned out to be relatively uninteresting. It showed a clear pathway for blood to flow through, and my artery walls were of a normal thickness. But here's a sample of what an older person's report might look like: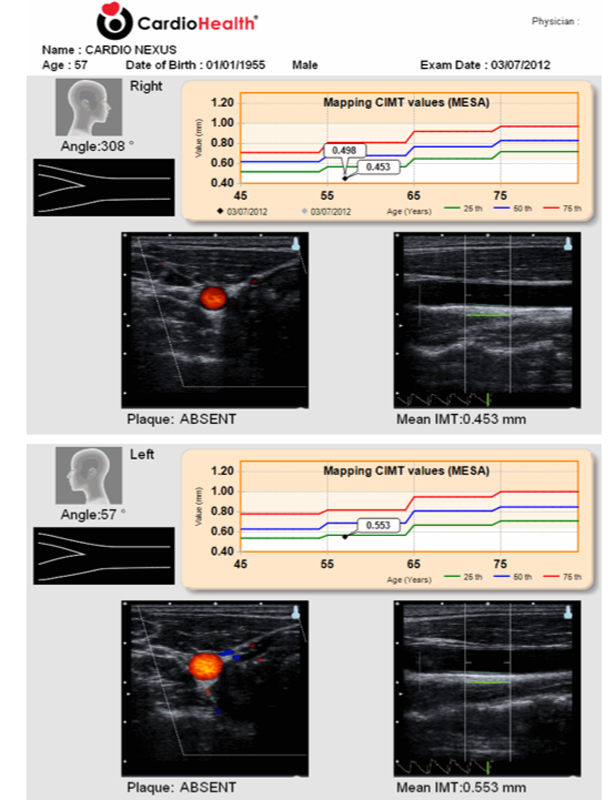 We want to hear what you think about this article. Submit a letter to the editor or write to letters@theatlantic.com.
Brian Fung
is a former technology writer at
National Journal
.