Maybe Facebook Can Get Kids to Wear Condoms, Public Health Officials Figure
Researchers are testing Facebook's targeted advertising as away to increase condom use and decrease sexually transmitted disease rates.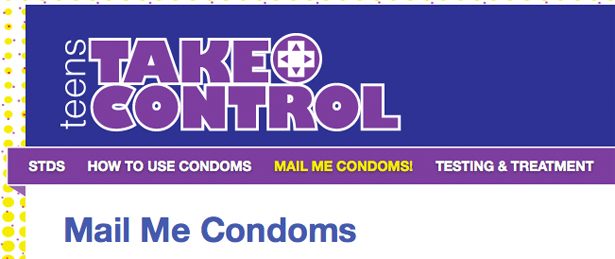 It's tough to convince young adults that they need to wear condoms. Youth account for half of all new STD cases, even though they are only one quarter of the sexually active population.
So, naturally, public health researchers are always trying to find better methods to inculcate safe sex messages. And these days, that means buying targeted advertising on Facebook. In some ways, Facebook is perfect for this kind of public health messaging: the organizations can buy ads that are being shown to their precise audience, however it might be configured demographically and geographically.
At last month's National STD Prevention Conference, two studies demonstrated how public health researchers are testing out new social media strategies.
The first study was national in scope and run by a team at the Centers for Disease Control; it looked at two different marketing campaigns targeted at 15-25 year olds. One promoted the "sexual health tab" on the CDC's Facebook page. For the agency's one week spend of $4,200, they got 7,099 views and 254 click-throughs to content. The other ran for an entire month promoting the CDC's special Get Yourself Tested page and cost $15,000. That one increased GYT's Facebook fans by 181%, driving 37,079,892 impressions and 8,603 new fans.
A second study by Philadelphia public health officials was even more targeted and direct. The ad was a call to action to 13-19 year olds in the Philadelphia area: "Philadelphia Freedom Condoms can be mailed directly to your home. 'Like us' and get yours!"" The campaign cost $3,000 and reached 213,056 individuals in their target population. Their Facebook page received almost 2,600 new likes, and most intriguingly, the average number of condom orders increased by 8 per day to 39 per day.
But ultimately, no one cares how many Facebook likes the CDC has if the same number of young adults are getting STDs. So that last outcome of the Philadelphia study is important because, presumably, it can be linked to existing research, allowing for direct comparisons with other types of public health interventions.