With studies showing an answer to the question is a significant prognostic indicator, it's a simple way of screening for palliative care eligibility.
My favorite example of someone being referred to palliative care, including hospice, and living longer is not Paul Gilliam or Mickey Zimble or Art Buchwald; it is my cousin, Edith Glikin.
Norman Glikin, Edith's late husband, was my mother's cousin. Edith and Norman were my parents' best friends. Growing up, they and their children, Sandy and Susie, were my favorite relatives. Our families spent a lot of time together. As a young boy, during a summer week I spent at their home playing with Sandy, Edith taught me to ride a bicycle, for which I am eternally grateful.
In late January 2004, at the age of 83, Edith underwent heart surgery. Things went well during surgery, but she had a very difficult recovery, marked by prolonged heart failure, breathing difficulties, dangerous cardiac arrhythmias, and profound depression. She was in the hospital for weeks, much of the time in pain and generally miserable. During the first weeks, she had to have a thoracentesis performed on three occasions to remove fluid around her lungs. In the larger scheme of medical procedures, it is not a big deal. But it was to Edith. In an X-ray suite, sitting on a cold table, her robe was removed and the sides of her chest were swabbed with iodine solution (also cold) as a disinfectant. A small shot of local anesthetic was injected in a dime-size area at a site on her mid-back, underneath which lay a pool of fluid. The radiologist passed a long, wide needle (roughly twice the diameter of a spaghetti noodle) between her ribs until fluid was returned. Then a guide wire was passed through the needle, the needle was withdrawn, and a firm, tapered plastic catheter about the gauge of macaroni was threaded over the guide wire and into the pleural effusion that had collected between the linings of the chest wall and lungs. The guide wire was then withdrawn and the outer end of the catheter was connected to a stopcock. Being very careful to maintain negative pressure on the catheter at all times, the physician who performed the procedure withdrew fluid into a large syringe. When he had drained all he could, the catheter and syringe were removed and a watertight dressing was applied to her skin. Then he repeated the procedure on the other side.
Edith lost all her appetite while in the hospital and, therefore, wasn't getting the calories or protein she needed to get stronger. She was unable -- or refused -- to participate in physical therapy. Edith thought she was dying and repeatedly asked her children -- Sandy and Susan -- and their spouses to let her go home. Several of her immediate family members, including Sandy, who is a pediatrician, his wife, Jenny, and sister, Susan, who are both nurses, worried that she might be dying. Edith's cardiologist disagreed. He explained that she merely had a shocked heart syndrome. It was unfortunate, he said, but it happens sometimes. While bothersome, he was sure she would eventually get better. With this assurance, the family acquiesced and prevailed upon Edith to go to a rehabilitation center. The first one was awful and was too far from her daughter, Susan, so after a few weeks she was transferred to another.
Things went from bad to worse and Edith, clearly failing to thrive, was readmitted to the hospital. Now there was concern that she needed a PEG tube to supplement her nutrition. Antidepressants that had been prescribed during her first hospitalization were changed. Edith continued to decline.
I had been staying in touch with the family by phone but had not been part of decision-making conversations. By early March 2004, Jenny Glikin called me and asked me to weigh in. She described Edith as deteriorating in body and spirit. Her heart failure was stable, but she was not eating, exceedingly weak due to her surgery and deconditioning, and getting weaker.
I asked Jenny whether she would be surprised if Edith died within the next six months.
"Not at all. I would be surprised if she were alive in six months!" Jenny replied.
This is a slight variation of what's come to be known as "the surprise question" -- "Would you be surprised if this patient died in the next year?" -- that has been promulgated by palliative care physician Joanne Lynn as a simple way of screening for eligibility for palliative care. Studies have shown that a physician's response to the surprise question is a significant prognostic indicator -- that is, a predictor of a person's life expectancy -- in cancer and kidney failure, as well as in a large primary care practice.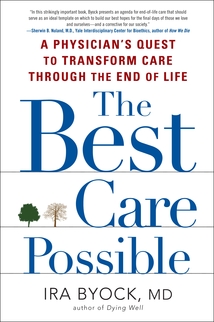 I suggested that we consider referring Edith to hospice and Jenny thought it made good sense. Her general debility combined with her heart failure would make her eligible under Medicare. When Sandy and Jenny approached Edith's cardiologist, he told them the idea was unheard of. When I subsequently called him, he initially said the same thing to me. However, when I asked him the "surprise question," he had to admit that he wouldn't be shocked if she died in the next six months, or even the next three months. He agreed that she had been declining. Her performance status was awful, her serum albumin was less than two -- an objective sign of malnourishment. I explained that the family was willing to care for her around the clock (including hiring nurses' aides to sit with her at night) and that the hospice program would send skilled nurses to weigh her and take her blood pressure and pulse, examine her with special attention to her breathing and edema, and help manage her medications, including her furosemide (Lasix) and potassium. A physical therapist with hospice would see her twice a week and would teach both Edith and her family strengthening exercises. This time, he reluctantly agreed -- or acquiesced.
It all worked. Once at home, Edith's mood improved. She started eating. She worked with the physical therapist and her nurses' aides and did her exercises faithfully. Her improvement was slow but steady. Her shocked heart syndrome gradually resolved. Her swelling subsided and her depression lifted. Within three weeks she was up and around with a walker; within five weeks, she was feeling better than she had been before surgery. She graduated from hospice.
Fourteen months after her surgery, I danced with Edith at a family wedding. For me, Edith's experience epitomizes the connection between higher quality of life and survival. Like Mickey Zimble, she recovered her will to live and, thereafter, she recovered. We recently celebrated Edith's 90th birthday. She has just had the battery of her implanted cardiac defibrillator replaced. While she was in the hospital I interviewed her about her thoughts on having been a hospice patient.
She said her cardiologist, whom she sees every six months and likes very much, still thinks I am crazy. She laughed out loud when she told me that he teases her every time she comes in for her routine appointments. "He's clueless! I wouldn't be here if it wasn't for you and hospice!" she joyfully exclaimed. Her children and I would make the same decision again.

Excerpted from Ira Byock's The Best Care Possible: A Physician's Quest to Transform Care Through the End of Life (Avery)
We want to hear what you think about this article. Submit a letter to the editor or write to letters@theatlantic.com.
Ira Byock is director of palliative care at Dartmouth-Hitchcock Medical Center in Lebanon, N.H., and author of The Best Care Possible: A Physician's Quest to Transform Care Through the End of Life.