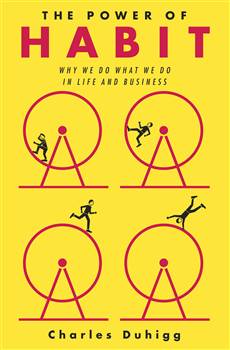 As a young man, Benjamin Franklin set out to improve himself by devising a chart-based log for tracking his progress against the virtues he identified as essential to good personhood. Each week, he would pick a virtue to cultivate, then put a black pencil mark in his calendar chart on any day he failed to uphold the virtue. This visual feedback on his progress encouraged him, and allowed him to move to a different virtue the following week, hoping that each week would leave him with a "habitude" for that particular virtue.
We try to reverse-engineer willpower and flowchart our way to happiness, but in the end, it is habit that is at the heart of our successes and our failures. So argues New York Times reporter Charles Duhigg in The Power of Habit: Why We Do What We Do in Life and Business, proposing that the root of adhering to our highest ideals -- exercising regularly, becoming more productive, sleeping better, reading more, cultivating the discipline necessary for building successful ventures -- is in understanding the science and psychology of how habits work.
Duhigg, whose chief premise echoes many of Timothy Wilson's insights in Redirect: The Surprising New Science of Psychological Change, takes a deep dive into the bleeding edge of neuroscience and behavioral psychology to explore not only why habits exist in the first place, but also how they can be reprogrammed and optimized.