Study of the Day: Debunking the Myth That Sleep Worsens With Age
A new telephone survey of more than 150,000 adults in the U.S. suggests that people in their 80s sleep better than the rest of us.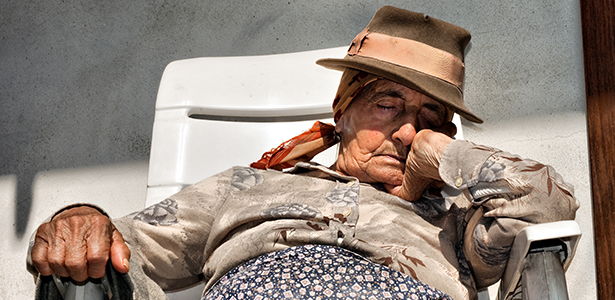 PROBLEM: Does quality of sleep really diminish with age?
METHODOLOGY: Researchers led by Michael Grandner examined the rates of sleep disturbance and daytime fatigue reported by 155,877 American adults who participated in a randomized telephone survey. They also asked the respondents about race, income, education, depressed mood, general health, and time of last medical checkup. Their answers were weighted to match national census data.
RESULTS: Except for an uptick in sleep problems during middle age that was more pronounced in women than men, sleep quality improved consistently over a lifetime, with the fewest complaints coming from people in their 80s. Health problems and depression were also associated with poor sleep, and women reported more sleep issues than men.
CONCLUSION: Aging does not appear to worsen sleep.
LIMITATION: Given the self-reported nature of the data, the researchers can't determine if the quality of sleep of senior adults is superior.
SOURCE: The full study, "Age and Sleep Disturbances Among American Men And Women: Data From the U.S. Behavioral Risk Factor Surveillance System," is published in the journal Sleep.
Image: marcovarro/Shutterstock.