Building a Better Inhaler
They seem simple enough, but asthma inhalers are used correctly only about 20 percent of the time. Cambridge Consultants is changing that.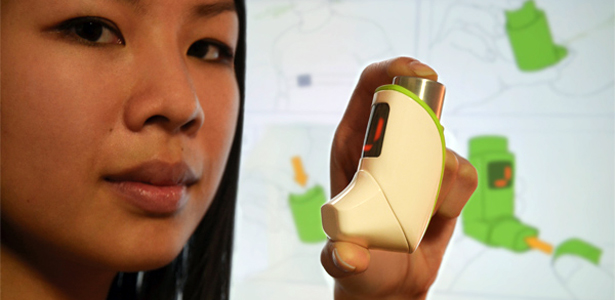 Asthma inhalers seem easy to use, but they actually require a good deal of precision and fine timing during shaking, inhalation, and pressing of the button. Learning how to properly use the devices has always been a watch and learn affair, but now Cambridge Consultants has developed a practice inhaler, called T-Haler, that can actually correct improper usage naturally and intuitively. The device senses whether it received enough shaking, how much inhalation pressure was applied, and whether the button was pressed at the right time to release the medication.
The T-Haler has undergone testing in a trial that showed that people who used it were able to significantly perfect their inhalation technique.
From the announcement:
More than 50 healthy participants, aged 18-60, took part in a recent study conducted by Cambridge Consultants to test the efficacy of T-Haler. Before using the training system, the average success rate of the group in using an inhaler correctly was in the low 20 percent range -- in line with numerous other studies carried out. The participants had no prior experience with asthma or inhalers and were given no human instruction beyond being handed the T-Haler and told to begin. The on-screen interface walked the group through the process, which takes just three minutes to complete.

"What was remarkable about the T-Haler in our own study was how quickly the participants learned, and how well that knowledge stayed with them," said Kate Farrell, senior design engineer, medical technology at Cambridge Consultants. "Without any human direction beyond the word 'go,' participants went from around a 20 percent success rate without training to a success rate of more than 60 percent after only three minutes with the T-Haler device. This is more than twice the compliance rate we have seen in other studies with trained participants. Interestingly, a week later, 55 percent were still correctly using the device -- showing that they retained what they learned."
---
This post also appears on medGadget, an Atlantic partner site.