Bringing Braille to Smartphones
BrailleTouch, a new application created by Mario Romero, a postdoctoral fellow at Georgia Tech, allows the visually impaired to type on a phone's touchscreen without seeing it at all.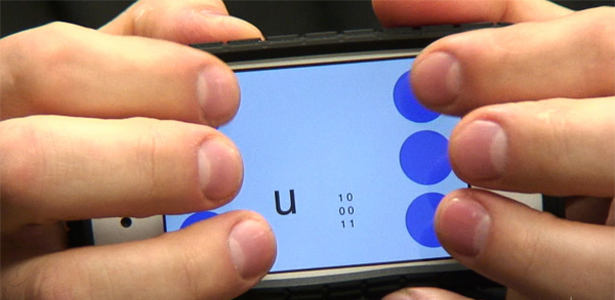 Touchscreens lack buttons, making it very difficult for blind or visually impaired people to use smartphones and tablets. That is what Mario Romero, postdoctoral fellow at Georgia Tech, probably thought when he came up with the idea to develop BrailleTouch, an app that allows folks to type on the touchscreen without seeing it at all.
The application works by putting the six dots of a braille character on the screen in landscape mode with three on each side. Three fingers from each hand then press in the appropriate patterns to create the desired characters. There is audio feedback to confirm the correct input and the screen flips regardless of orientation so a user does not have to worry about the phone being upside-down.
The researchers at Georgia Tech have tested their app and have concluded that users can reach up to 32 words per minute with 92 percent accuracy using their prototype on an iPhone. The app can also help people learn the Braille alphabet. It also might come in handy to the sighted when you want to take a note without being noticed by other people.
The video below demonstrates how the BrailleTouch works:
---
This post also appears on medGadget, an Atlantic partner site.