At Children's Hospital Boston, a Game That Considers Emotions
During innovation day at CHB, doctors showed off a biometric regulated video game that could be used to treat serious emotional disorders.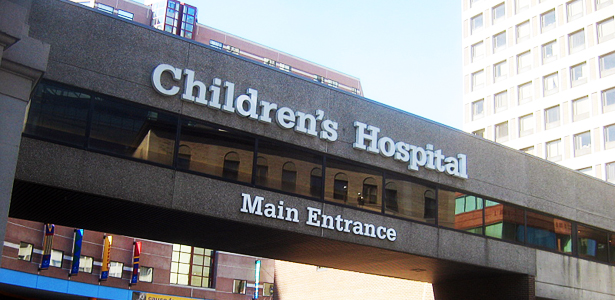 Last week, the researchers and clinicians in residence at Children's Hospital Boston (CHB) gathered under the auspices of the Innovation Acceleration Program at CHB for an afternoon of TED-like talks and demos. Since we mentioned it here, it was only appropriate that we go to check it out. If you want to watch the whole afternoon of talks, the recording has been posted online. (For a really good discussion of what it takes for a clinician to bring an innovation from idea to practice, watch Dr. Pedro del Nido's talk at the two-hour mark.)
The point of the sessions was to promote collaboration between the relatively autonomous clinical and research departments at CHB, and pitch the innovation grants available to clinicians and researchers at the institution. Dr. Joseph Madsen, one of the recipients of the grants, explained that small innovation grants, which don't require a lot of preliminary data or extensive applications, are helpful in exploring ideas that otherwise would not have been pursued. Another theme of the talks was that, from an institutional perspective, a great way to support innovation from within is to have a place where innovators can bring napkin-drawing level ideas to establish time of invention and the institutional know how to connect the napkin artist to people who can bring the idea to the world. Two ideas that followed that path were a head wrap for re-warming babies during cardiac surgery thought up by nurse Karen Sakakeeny and an implantable kidney dialysis unit that will be undergoing clinical trials soon originated by Dr. Hiep T. Nguyen.
The demo and device sessions showed a fascinating cross-section of clinical applications for these innovations and inventions. Some of the displays we saw were:
Dr. David Harrild and Ed Marcus showed a method of using computer-guided analysis of cardiac MRI to measure ventricular volumes that takes a process that normally requires eight hours and shortens it to 15 minutes.
Dr. Jason Kahn showed his biometric regulated video games that could be used to assist in the treatment of emotional regulation disorders. With a simple Arduino board, heart or respiratory rate can be tracked in a player. When combined with a simple asteroids-like game the researchers use the rates as a proxy for emotional states; as the rates get faster, it is assumed that the player is becoming anxious or emotional. Prior work in this area used the rates to pause the game until the player became less emotional. Kahn and his collaborators use the rates to limit the ability of the player to fire weapons or navigate, meaning the game still goes on but the player is limited in his ability to play it. This method teaches the player to both concentrate on a task and attend to his or her emotional state at the same time, and is designed for players from ages nine to 18. Other applications of this work are a car racing game for players eight to 12 and a block stacking game for players five to eight, which is a younger group than previous work in this field has addressed.
Dr. Nora Lang discussed a poster which explained a light activated adhesive patch for cardiac repair. This allows the adhesive patch to be placed by smaller tools than currently available, as the adhesive properties are not activated until a light at the end of a specific device is turned on. They have tested it in a rodent model and the patches have lasted with sufficient strength for over two weeks so far.
Dr. John Kheir discussed his invention of IV Oxygenation, which he has presented at AHA meetings in the past. If successful it might extend the so-called golden hour of resuscitation by improving brain oxygenation even if rescuers cannot get airway access. Also, it seems it would be another way to do this.
To introduce the final group of talks about device development Dr. del Nido described the difference between innovators and inventors as a gadget, and that an inventor is a person who translates an idea into a device. Hopefully Children's Hospital will continue to foster innovators and inventors, and other institutions can learn from their model and find out ways to incubate ideas in their own ways.
---
This post also appears on medGadget, an Atlantic partner site.