What We're Talking About When We're Talking About Cancer
After seeing Wit, which will soon end its Broadway run, a once-oncologist and patient wonders if the subject of cancer has grown too tiresome.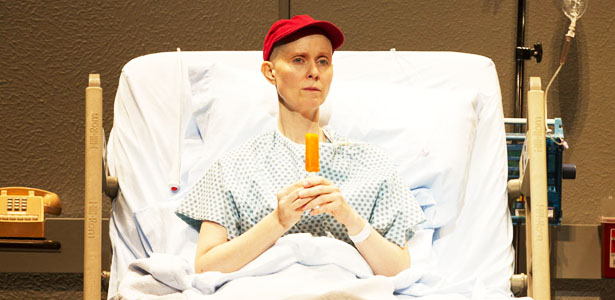 Soon Wit, a one-act drama about a middle-aged woman grappling with metastatic ovarian cancer, will end its Broadway run. Cynthia Nixon lends spark to the tale of Dr. Vivian Bearing, a John Donne expert. The English professor, with few friends and absent family, agrees to take harsh doses of chemotherapy in an experimental trial. On stage, her mind toggles between the hospital's reality and flashbacks to lectures on language and poetry. In the end, words prove inadequate to relieve her pain and isolation.
One approach to examining this frank, effective, and slightly frightening production of Wit is to consider the piece in relation to our culture's evolving discourse about malignancy. Margaret Edson, an elementary schoolteacher, wrote her singular, Pulitzer-winning play in the early 1990s. Since then, the conversation has shifted from a quiet, respectful tone about the C-word, to hyped awareness and big media events, to, lately, extreme openness. In 2012, a torrent of blogs, celebrity patients, memoirs, telling videos, and otherwise shared pages leads this once-oncologist and patient to wonder if the topic of cancer grows tiresome. In this context, Nixon's searing performance begs the audience not to turn away.
For those who might enter the theater not knowing this is a play about cancer, the title betrays its seriousness. The name's alternate, W;t, alludes to questionable punctuation in Donne's 17th-century sonnets. In an early scene, Vivian reflects on an episode when she, as a graduate student in literature, discussed whether a semicolon or comma breaks the final line of "Death, Be Not Proud." The story doesn't lighten up from there. Rather, it's peppered with references to God, forgiveness, salvation, and bits of "Divine Poems." The play, set in an academic hospital, unfolds in just 100 minutes. Those might seem long but for the intensity and relevance to the modern patient's experience.
An oncology fellow, Dr. Jason Posner, is assigned to Vivian's case. The young doctor's refrain, "Gotta go," will be familiar to anyone who's been on the receiving end of physicians' rounds in a hospital. He seems eager to leave her room whenever he enters. The two connect on a personal level, briefly, just before he performs a brutal pelvic exam on stage. Jason mentions to Vivian that he was a student in her literature class. Later, upon her asking, he reveals a bit about why he chose oncology and tells her of his research ambitions. But mainly he avoids talking with his patient. He doesn't struggle to communicate with her, mainly because he doesn't seem to want to do know her.
The senior, more formal oncologist, Dr. Kelekian, shares Vivian's uncompromising posture about attention to detail and precision in language. Both are caught up in jargon. Edson, the playwright, parallels the complexity of words in metaphysical poetry with the daunting language of medicine. "Why does Donne make everything so complicated?" Vivian recalls one of her students asking. The student continues: "[M]aybe he's scared, so he hides behind all this complicated stuff, hides behind this wit."
Edson's point, as I understand it, is that the doctors keep their minds occupied with science and technical information to avoid thinking about hard, commoner issues -- like life and death -- that occupy patients' minds. At another level, they might employ jargon to separate themselves from patients, as if they fear crossing that barrier between being healthy and being, not.
Later on, Jason speaks with the nurse about the "puzzle" of John Donne's poetry. He says:
Listen, if there's one thing we learned in Seventeenth-Century Poetry it's that you can forget about all the sentimental stuff. Enzyme Kinetics was more poetic than Bearing's class. Besides, you can't think about that meaning-of-life garbage all the time or you'd go nuts.
And this is the problem for the audience, for cancer doctors -- who in their real work suffer a high level of burnout -- and maybe for a public this is now so exposed to the subject. Oncology is taxing. It's costly and unpleasant, unbearable for some.
Nixon, with her freshness and inescapable connection to Sex and the City, renders Wit's central character palatable and even attractive. Plenty of ticket-payers prefer not watch as a woman retches, winces, and, yes, whines about her medical condition while prone. Posters for this show highlight the actress's pale, shaved head. As scripted, she wears a red baseball cap from the start of the play until its end. What goes untested, in this trial on Broadway, is how most viewers would stomach a protracted look at her bald condition.
What scared me in Wit is the tragic outcome of failed communication between doctors and patients. When Kelekian tells Vivian about her advanced carcinoma, the two talk simultaneously. To accentuate this point, Edson runs two vertical columns of dialogue on the same page in the original script. Both are speaking; neither is listening. At the end, when Vivian's heart stops, the young doctor ignores a do not resuscitate order and, initially, the hospital's code team overlooks her wishes.
Before dying, Vivian appears happy sharing an orange ice pop with a nurse. They talk about childhood. She finds comfort in the embrace -- real or imagined -- of an old English professor, and in the words of a children's book, the Runaway Bunny. The play's final focus is on simplicity, honesty, and the patient's need for genuine human contact. It's about kindness, and about being there, for those we know and maybe sometimes for a stranger at the end of life.
I can't say why Edson, who wrote this brilliant work after she'd spent some time working as a clerk in an AIDS and cancer unit in a research hospital, didn't include Donne's "For Whom the Bell Tolls." The thrust of that poem -- that no man is an island -- points, now, to the community in which we live, and that those with illness are interconnected to those without, who rely on their help. The playwright, and the new version's director, Lynne Meadow, take Donne's message to the present day.
Image: Manhattan Theatre Club.