Using Produce Carts and Ingenuity to Make Food Deserts Bloom
In her review of "The Apple Pushers," Tracie McMillan praises the documentary's focus on a set of deeply entrepreneurial street vendors.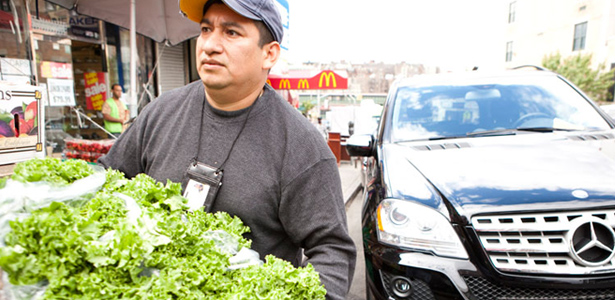 There are few images of old-time New York that resonate more than the street peddler. Profoundly urban and deeply entrepreneurial, a scruffy immigrant haggling over the price of the produce on his or her cart is an icon of the early American capitalism. Filmmaker Mary Mazzio grasps the power of that iconography and makes use of it to admirable effect in The Apple Pushers, her recent film about an initiative to increase the number of fruit and vegetable carts in New York City.
And that's a good thing, because the primary story -- a city health department project ramps up the number of produce vendor permits in an effort to bring more produce to underserved areas -- might otherwise fall flat. Early passages of the film are thick with shots of plump American bellies making their way around New York and fast food joints, interspersed with dire numbers of our obesity crisis. In less capable hands, do-gooder impulses and policy wonkery could have easily overshadowed the rich narrative inherent in the true subject of Mazzio's film: the peddlers. They take center stage, and the obesity crisis is allowed to fade into the background.
With the help of narration by actor Edward Norton, we become close to five of them. There's Jake, a young Iraq War vet (and Brooklynite by way of Russia), who's selling organic produce at the Staten Island Ferry terminal, and Sarahi, who came to the U.S. from Mexico at age 15 and now sells produce in the Bronx. Hassan, from Bangladesh, dreamt of a career as a cricket player ("My father says, 'A doctor is a very good profession.' I said, 'I like cricket.') but his father insisted he go to America to help support his family.
As interesting as the personal stories are, the most involving subjects are the ones who, by film's end, are not just making a living with their carts but seem to be building them into the first rung of a career ladder. Bardo (Mexico/Bronx), Shaheen (Bangladesh/Bronx), and Gloria (Ecuador/Queens) share their personal tales, too, but are clearly crafting careers for themselves. Bardo and Shaheen have both hired staff to keep their carts bustling, and Gloria drives hard bargains with the produce distributor who delivers to her, curbside.
Emphasizing the people pushing the carts, rather than the people who pushed for adding them to the city's landscape under "Green Carts" legislation, is a smart move. (The film's executive producer, Laurie Tisch, helped to launch the Green Cart program with financial support from her Illumination Fund, which has continued to support Green Cart by paying for wireless terminals that allow vendors to take Supplemental Nutrition Assistance Program cards.) Emotionally, the film packs a wallop; we hear Sarahi's story of walking through sewer tunnels before climbing -- and getting stuck on -- the border fence, saved by a friend who doubled back to help her; we hear Jake's mother describe welcoming him back after his tour of duty. These stories, and those of the others, draw a parallel between these peddlers' stories of immigrating to the U.S. from the bustle of today's developing world and the tales of immigrants flooding New York from Europe in the late 19th and early 20th centuries.
At the screening in New York, a panel of experts and program staffers fielded questions from the audience, including the inevitable "Is anyone planning to assess the health benefits, and how long will it take?" Program data is still being crunched, said Bonnie Kerker from the city's department of health and mental hygiene, which helped inaugurate the project, but preliminary data indicate that availability of produce "seemed to increase in Green Cart areas, more so than in non-Green Cart areas." Later in the discussion, after running through a laundry list of the city's other food-access initiatives, Kerker added, "I also think we would be mistaken to try to pin our outcomes on one initiative -- we really need to look at the full picture." That picture will include the several other cities, says Illumination Fund Executive Director Rick Luftglass, that are developing their own produce cart programs.
The question after the screening reflected the fact that the film skims over food access statistics without digging too deep. This streamlines the narrative and makes it far more watchable, but also edges the film away from documentary and toward advocacy. For example, more recent research on food access and health suggests that simply increasing access to produce doesn't translate to better diets. Some studies suggest that excessive access to junk food is at least as important as a lack of access to fresh; others find that the only direct dietary link to obesity is increased consumption of sugary drinks -- not a reduction in consumption of produce. And a recent survey of 1,500 families found that a majority of low-income families -- from 69 to 77 percent -- are satisfied with their access to healthy foods, and find the bigger battles to be time and price. There's also little reference to the tenuous prospects of any small business, whatever they are selling. (Program officials say about three quarters of permits issued to vendors under the program, not in its third year, are still active.) By the film's end, Jake has stopped vending, and by February, two more of the five profiled had closed up shop, leaving just two in business.
These are complicating wrinkles, not reasons for wholesale dismissal, and they could have been easily refuted. Neighborhoods do still need fruits and vegetables, after all. But instead we simply hear that in some neighborhoods it is hard to find an apple, and celebrate the icon of the peddler. If the documentary had acknowledged the complexity of the problems at hand, rather than positioning the carts as a wide-ranging cure-all, it would be stronger for it.
Back in New York, the carts may already be making inroads for residents in those neighborhoods -- at least the ones in the film. In its final minutes, the movie runs through a series of man-on-the-street interviews, including, charmingly, a McDonald's worker on break. But it's a chubby young Latina woman, wearing a T-shirt and ponytail, who makes the point most clearly.
"Are you eating more fruits and vegetables because [the Green Cart] is here?"
The young woman doesn't pause or flinch. "Yes."
Image: The Apple Pushers/50 Eggs.