The Many Questions Surrounding Walmart's 'Great for You' Initiative
Regardless of what's motivated the retail giant to come up with its new front-of-pack labels, they'll give consumers valuable information.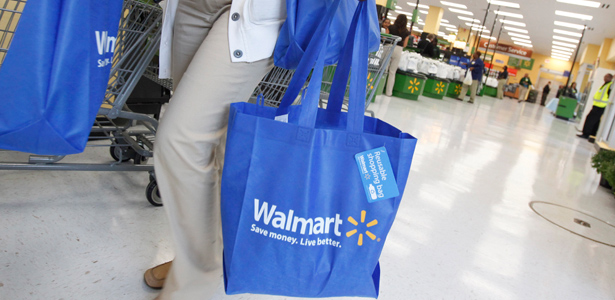 Last week, in conjunction with the announcement of the new "Great for You" front-of-pack icon that Walmart introduced for its private-label products, which Marion Nestle summarized, I moderated a panel on the effects it might have on underserved communities, and how closely or not the criteria for the icon do and don't match the Institute of Medicine's report on and recommendations for front-of-pack labeling last November -- recommendations that the FDA has yet to act on. I asked Walmart to include a nutritionist who'd worked on the IOM report, and so they invited Tracy Fox, a former president of the Society for Nutrition Education and Behavior who served on the IOM committee working on front-of-pack labeling and has been involved with other in-store nutrition ratings systems, particularly the respected Guiding Stars, from Hannaford Brothers. (None of the panelists, including me, was paid by Walmart to appear, though two -- Josh Wachs, chief strategy officer of Share Our Strength, and Brent A. Wilkes, executive director of the League of United Latin American Citizens -- represented organizations that have received grants from the Walmart Foundation.)
The first suspicion of anyone reading about the icon is that Walmart is making an end run around the IOM and the FDA: cherry-picking nutritional criteria that will better sell products -- like Froot Loops, which notoriously merited the "Smart Choices" seal of approval devised by manufacturers and grocer groups. Then comes the suspicion that this is just another way to dupe consumers into buying highly processed foods, with all the added-on costs of processing and none of the benefits of unprocessed, unpromoted fresh food, which never has marketing muscle behind it.
The second suspicion is fairly indisputable. Walmart has a natural interest in selling its private-label Great Value and Marketside brand lines, and increasing sales relative to the nationally branded, competitive items it also carries. But the criteria are sufficiently stringent as to apply only to 20 percent of that line, and Walmart designed the icon to include no typography, branding, or colors that are core parts of its other graphics; it is offering the icon to any manufacturer that wants to use it. And it is introducing the icon not on packages of processed private-label foods but in the produce aisles of its stores, because it can put up banners and shelf labels before its private-label suppliers -- all of them contractors, none owned by Walmart -- can retool packages to show the icon, which it says will take a year for many products. (Ratings from Guiding Stars, NuVal, and other ratings systems do not appear on boxes, just shelf tags.)
As for cherry-picking criteria, the main criticism nutritionists have so far is the figure of 25 percent added sugars, which rather than suggesting an upper limit for what is recommended makes acceptable the idea that that upper limit is perfectly fine for any food that is, or isn't, supposed to be sweet -- and, of course, there's a recent call to put sugar in a category with alcohol and other dangerously addictive substances. And even nutritionists who would never call for a ban on sugar would call for foods to be minimally sweetened or have no added sugar as all. Still, even this generous level excludes almost all cereals in the Walmart private-label line.
And as for the main criticism of setting as de facto industry standard criteria of its own choosing before the FDA can act -- the criticism I went into the panel with -- Andrea Thomas, Walmart vice president of sustainability, said in response to my questions that when the FDA does issue its own guidelines, Walmart will be open to changing its criteria to conform with what the FDA issues. The "Great for You" criteria, she said, are "malleable." Reflecting a truth that frustrates all observers, she suggested that FDA guidelines could be "years down the road," and said that in customer surveys consumers say they want and will use a quick recommendation tool now to help them pick good and healthy food for their families -- as the confusing Facts up Front thumbnail icons industry came out with, emphasizing the good over the bad and including a welter of numbers and percentages, do not.
Leslie Dach, vice president for corporate affairs, said in introductory remarks that Walmart would promote the new icon through store placement, signage, and advertising. Michael Jacobson, of the Center for Science in the Public Interest, asked if that meant that Walmart would advertise only products that featured the icon. Dach preempted what he assumed would be a follow-up question by saying that Walmart would continue advertising the "broad array of products" -- meaning soda and high-fat, high-sodium foods. It's still a business, and 80 percent of Walmart's private label food alone won't qualify for the new icon, let alone the "broad array of products" in the rest of the grocery aisles. But Walmart, Dach promised, would "incent" customers to buy more fresh fruits and vegetables.
Share Our Strength's Cooking Matters survey (Marion Nestle, who went to the SOS announcement, reported its findings here), which was funded by ConAgra, "busts the myth that poor people eat out and eat junk food whenever they can," Josh Wachs said. Low-income families eat at home, and eat from-scratch meals, far more often than is widely assumed, at least if the 1,500 families that participated in the Cooking Matters survey are representative of low-income families across the country. And, as Jane Black pointed out in her post about the survey, price is the main barrier to low-income families who want to eat better -- more important than access to fresh food, a result that will surprise those who say that food deserts are the first and biggest problem to surmount. But shoppers have difficulty planning and budgeting, Wachs said, to buy the healthy food they want.
This is where the need for consistent and widely available shopping and cooking education -- the need that became the theme of the panel -- comes in. The day before the announcement of the icon, the Walmart Foundation announced $9.5 million in new grants for nutrition education. So far all of that education, at least according to the grantees and chefs on the panel, takes place in schools, community health centers, food banks, and, for instance, Latino health fairs that, as Wilkes pointed out, used to feature exclusively fatty and high-salt foods. The classes, demonstrations, and the 900 shopper-education tours that SOS has led using $4 million in Walmart funding, though, by no means take place predominantly in Walmart stores -- a natural venue for them.

Chef Nadine Joyner, for example, receives funding from SOS's Cooking Matters program to find consumers in Maryland food banks, shelters, WIC clinics, supermarkets, and farmers' markets, and shows them how to retool recipes and shop for foods that will help them lose weight and improve their health, as Joyner taught herself to do. Paying Joyner to conduct those classes in Walmart stores ("I'd love to work in Walmarts," she said in reply to my question), and training staff members to conduct tours and do health-cooking demonstrations, is a next frontier for Walmart -- one perhaps even more distant than clear and enforceable FDA nutrition guidelines.
So that leaves one question: Will any consumers actively use this icon, and will it improve their health? Are the icons just, as Nestle says with typical tell-it-like-it-is irony, "Buy-me labels" -- not the red light, don't-buy-me symbols she says researchers have shown do work, and that industry will fight ever having to put on a product? Will sales warrant continued investment by Walmart and by the suppliers who have to reformulate products to meet the criteria? Will name brands and even rival chains adopt the icon, or add to the unregulated confusion by creating their own?
All in the category of remains to be seen. But Walmart has put money into starting something now, and, more important, tracking sales of the products with the icon -- including, Andrea Thomas implied, sales to people using SNAP benefits. (I jokingly suggested that Walmart enact a program similar to Bounty Bucks, in which shoppers get more fresh produce for their SNAP dollars; Walmart representatives visibly blanched.) Whatever preemptive, competitive, sales-minded motives might have propelled the "Great for You" program, it will produce data that no one else is collecting -- data that nutritionists want and the FDA can use. We'll see how freely Walmart shares it.
Image: Jim Young/Reuters.