The Grocery Store of the Future
As of earlier this month, commuters waiting for the next train on Philadelphia's platforms have been able to shop for groceries by opening the Peapod app and scanning barcodes on a sign.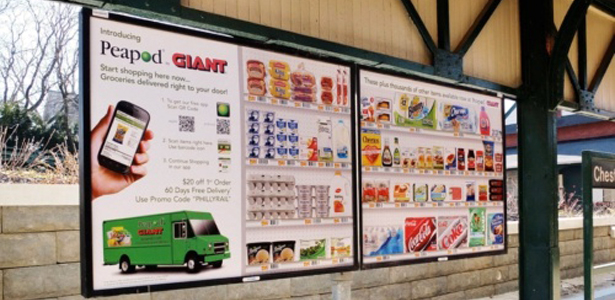 People do any number of things while waiting on the platform for the next subway or commuter train. Some pre-walk to position themselves at the best station exit for their destination. Some just mindlessly pace. The ones who used to look down the track every few moments for the next train now look at the digital arrival times every few moments instead. Some take pictures of rats.

And, as of earlier this month, some Philadelphians have been able to shop for groceries. The online grocer Peapod introduced virtual storefronts at select SEPTA stations throughout the city. While awaiting a train, users can download the Peapod app, peruse the items in front of them, and scan the barcode of anything they'd like to purchase. The groceries are delivered to their homes later that day.

Philly marks the idea's American debut, but a number of international cities already have similar services. Woolworths has placed virtual storefronts at the Town Hall Station in Sydney, Australia, and displays from British retailer Tesco were installed last year in South Korea. If three is a trend, you just got trended..
Read the full story at The Atlantic Cities.