Study of the Day: On Detecting Dyslexia Before Starting School
Even before they begin learning to read, kids at risk for dyslexia show differences in brain activity on functional MRI scans.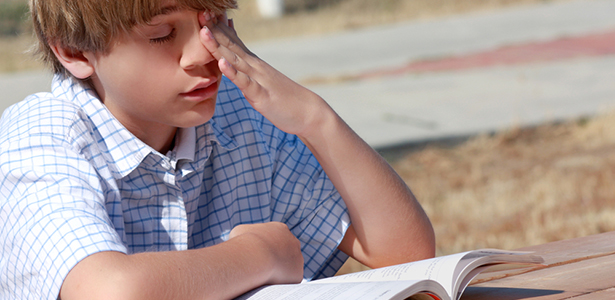 PROBLEM: Developmental dyslexia affects about half of children with a family history of this disorder and five to 17 percent of all kids. Since it responds to early intervention, is there a way to diagnose children who are at risk before or during kindergarten to head off academic and social difficulties?
METHODOLOGY: Children's Hospital Boston researchers led by Nora Raschle performed functional MRI imaging in 36 preschool-age children who were about five years old while they performed phonological tasks requiring them to decide whether two words started with the same speech sound. Half of the the kids came from families with a history of dyslexia.
RESULTS: Children with a familial risk for dyslexia tended to have less metabolic activity in brain regions tied to processing language sounds than kids in the control groups. Those with high activation in these areas generally had better pre-reading skills, such as rhyming, knowing letters and letter sounds, knowing when two words start with the same sound, and being able to separate sounds within a word (like saying "cowboy" without the "cow").
CONCLUSION: Children at risk for dyslexia show differences in brain activity on MRI scans even before they begin learning to read.
IMPLICATION: Since brain MRIs may provide an early diagnostic marker for dyslexia, affected kids may be able to receive the help they need earlier and avoid being labeled as lazy or unmotivated in school.
SOURCE: The full study, "Functional Characteristics of Q:1; 2 Developmental Dyslexia in Left-Hemispheric Posterior Brain Regions Predate Reading Onset," is published in the journal Proceedings of the National Academy of Sciences.
Image: J. McPhail/Shutterstock.