Study of the Day: Mild Dehydration Alters Mood, Makes Thinking Hard
Even if you're not yet thirsty, a lack of water may be affecting your disposition, energy level, and ability to concentrate, according to a new study.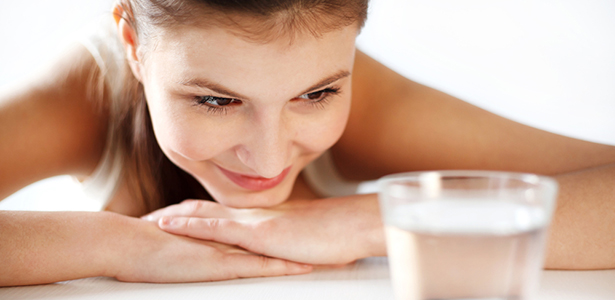 PROBLEM: Most people only drink water when they're thirsty. But what if even just mild dehydration, defined as approximately 1.5 percent loss in normal water volume, can already cause our minds and bodies to underperform?
METHODOLOGY: Researchers at the University of Connecticut's Human Performance Laboratory recruited 25 young, healthy women who exercised for less than an hour a day. The participants were hydrated the night before each of the three evaluations where they were tasked to walk on a treadmill to induce dehydration. They were also put through a battery of cognitive experiments that measured vigilance, concentration, reaction time, learning, memory, and reasoning. Their scores were then compared against a separate series of tests when the individuals were not dehydrated.
RESULTS: Lack of water caused headaches, fatigue, and difficulty in concentrating. The women also perceived the cognitive tasks as more difficult when slightly dehydrated, even though there was no significant reduction in their ability to think. Another study involving men showed similar adverse effects.
CONCLUSION: Mild dehydration can alter a person's mood, energy level, and ability to think clearly.
IMPLICATION: Relying on thirst as a cue to drink up may be inadequate. Study co-author and physiology professor Lawrence E. Armstrong says in a statement that, by the time this sensation kicks in, dehydration may already be affecting how our mind and body perform.
SOURCE: The full study, "Mild Dehydration Affects Mood in Healthy Young Women," is published in The Journal of Nutrition.
Image: puhhha/Shutterstock.