Study of the Day: How We Really Read Restaurant Menus
Most diners go through menus like a book, moving from left to right, and they avoid the—no surprise here—section that lists salads.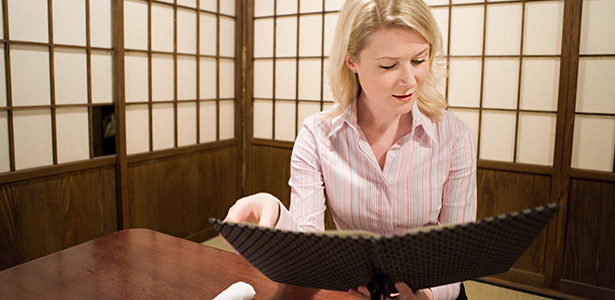 PROBLEM: In the '70s, William Doerfler published an influential "focal map" of menu reading noting that a diner's eyes zigzag across pages and focus for the longest on a "sweet spot" lying just above the midline on the right-hand page. He was a graphic designer.
METHODOLOGY: To check the veracity of Doerfler's study, San Francisco State University hospitality management professor Sybil Yang asked test subjects to wear an infrared retinal eye scanner as they read through a mock menu and chose a full meal, as if they were at a real restaurant. She used video to record and analyze their eye movements as well.
RESULTS: On average, the participants read the menu sequentially like a book, moving from left to right and down the pages of the two-page menu. They read slowly, suggesting that they were reading critically and not just scanning the pages. While they didn't fixate on a particular area, they did spend very little time on a "sour spot," which contained information about the restaurant and a list of salads. Their eye movements also suggested that they chose an entrée first and then built a meal around it.
CONCLUSION: Diners read menus like a book and their gaze doesn't linger over any particular location on the menu.
SOURCE: The full study, "Eye Movements on Restaurant Menus: A Revisitation on Gaze motion and Consumer Scanpaths" (PDF), is published in the journal International Journal of Hospitality Management.
Image: AISPIX by Image Source/Shutterstock.