Study of the Day: Gay Seniors Are Resilient Despite Tougher Old Age
The first national LGBT aging project highlights the need for more appropriate services and better health care for this neglected community.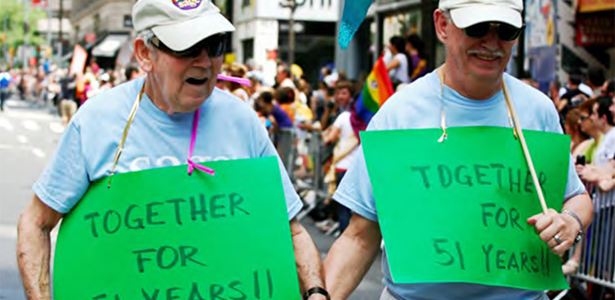 PROBLEM: Policymakers and researchers have largely ignored the health issues of lesbian, gay, bisexual, and transgender seniors, whose numbers are expected to exceed four million by 2030.
METHODOLOGY: University of Washington social workers led by Karen Fredriksen-Goldsen used the Behavioral Risk Factor Surveillance System in Washington State to compare key health indicators of lesbian, gay, and bisexual adults to heterosexuals. They then collaborated with 11 community-based agencies and surveyed 2,560 LGBT adults aged 50 to 95 across the U.S. to better understand the risk and protective factors affecting these older adults.
RESULTS: The respondents reported greater rates of disability, depression, and loneliness, and were more likely to smoke and binge-drink compared to heterosexuals of similar ages. Almost two-thirds of them had been victimized at least three times, and 13 percent had been denied health care or received inferior care. Still, LGBT older adults remained resilient. Nine in 10 engaged in wellness activities like meditation and 82 percent said they regularly exercised. Nearly all of them felt good about belonging to the LGBT community, and more than a third stated that they attended spiritual or religious services.
CONCLUSION: LGBT seniors face higher rates of physical and mental distress but lack access to appropriate health services.
SOURCE: The full study, "The Aging and Health Report Disparities and Resilience Among Lesbian, Gay, Bisexual, and Transgender Older Adults" (PDF), was conducted by the University of Washington's Institute for Multigenerational Health.
Image: University of Washington.