Remembering Washington D.C.'s Armory Square Military Hospital
When I read about the closing of Walter Reed Army Medical Center, I was reminded of the closing of another military hospital in Washington, D.C., nearly 150 years ago.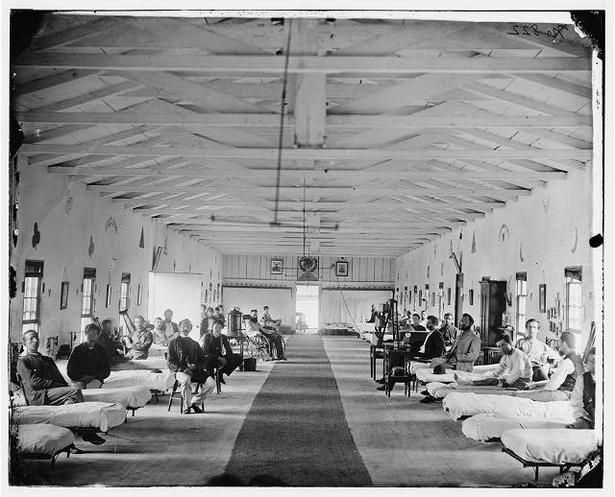 Interior of Ward K, Armory Square Hospital, 1865/Library of Congress.
From the last issue of the Armory Square Hospital Gazette, August 21, 1865:
THE CLOSING OF OUR HOSPITAL

Last Monday it was decided to close Armory Square Hospital, at once. This announcement was not wholly unexpected, vague rumors having been in circulation for a week or two past. We had hoped that our hospital would be the last to close.


During the last three years, thousands of our brave soldiers have been inmates of Armory Square. ... One cannot conceive of a gun-shot wound that has not been treated here. Of nearly every disease in the catalogue we have had examples. Such an opportunity for the practice of surgery, or the study of pathology and the treatment of disease, will not probably occur again soon. God grant that the stern emergency of a bloody civil war, which rendered so many asylums for our wounded and sick soldiers a necessity, may never again arise to curse with its mildew blights our native land.

We now bid adieu to Armory Square -- but not without some regrets. ... Within its walls we have learned many a lesson of wisdom, of patience under suffering -- of the keenest grief -- of faith, forgiveness, of true manhood....
Armory Square Hospital was built in the second year of the Civil War on land adjacent to the Smithsonian Institution, approximately where the National Air and Space Museum stands today. The hospital is the subject of a small display showcasing the diary of a woman who served as a nurse there. Armory Square was open for only three years (1862-1865), but in that time it administered to over 13,000 wounded and sick soldiers. In addition, the hospital employed individuals from privileged backgrounds as well as newly freed slaves, and served as a temporary home for a staff of several hundred people, including surgeons, clerks, attendants, nurses, cooks, laundresses, and guards.
---
This post also appears on the Smithsonian's O Say Can You See? blog, an Atlantic partner site.