Our Aging Prison Population: Should Criminals Die Free?
As the number of senior citizens locked behind bars skyrockets, cash-strapped states are unable to foot the growing health care bills.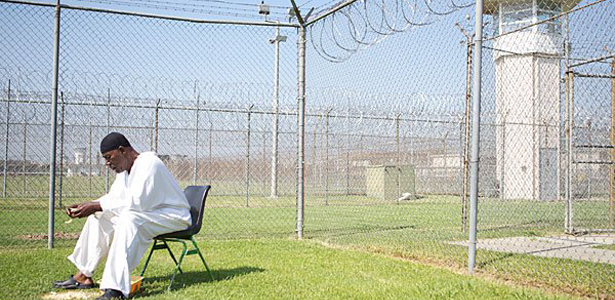 Last month, Human Rights Watch released staggering figures on the human and financial costs of the growth of aging persons behind bars in America. According to their report, from 2007 to 2010 the number of prisoners over age 65 increased by 63 percent, even as the total number of inmates grew by less than one percent. Cash-strapped states are seeing health care costs for their aging, imprisoned population skyrocket.
My home state of Louisiana currently leads the nation in the highest rate of incarceration (PDF). According to the Pew Group, one in every 55 Louisianans is behind bars. The Baton Rouge Advocate newspaper documented that caring for aging inmates costs $80,000 annually, a cost borne fully by the state since inmates do not qualify for Medicaid or Medicare. Last summer, Governor Jindal signed House Bill 138 (PDF), making parole possible for non-violent prisoners who are age 60 and older, who have not been convicted of a sexual crime, and who have served a minimum of 10 years.
For years before its signing, the bill had been hotly debated. I witnessed the front lines of this debate as a leader at the non-profit Hospice of Baton Rouge, which played a part in shaping the ground-breaking hospice program at Louisiana State Penitentiary in Angola. That prison became one of the first to offer an end of life care program in which inmates, most of whom will never be eligible for parole, volunteer to train as caregivers for their fellow inmates who are dying. The documentary Serving Life, directed and narrated by Forrest Whitaker and broadcast on Oprah's television network, has brought national attention to the program.
Although many inmates die behind bars, some dying prisoners become eligible for the "compassionate release" program established by Congress in a federal statute, which makes release from prison possible for inmates who are terminally ill with a prognosis of less than a year. We partnered with Angola and other area prisons to transfer prisoners eligible for compassionate release in acute medical distress to our inpatient unit. Each of the inmates was completely bed bound, non-responsive, and died within a few days. To their families, several of whom were able to be at the bedside in those final days, it was deeply meaningful that their loved one died free.
But the debate continued. As hospice staff and professionals we provided these men with the same quality care that we provide any other patient. But among ourselves we agonized. Some asked, should the fact that you made a criminal choice earlier in life negate any choice you might want to make at the end of life? Does every person have the right to die free? If so, what does free really mean, especially when the care was not cost-free. Each released prisoner was considered a non-funded patient, which meant that our charity patient care fund covered the services related to their terminal diagnosis.
I struggled, too, because I have lost a loved one to violent crime.
Each time I signed the paper to admit a dying prisoner to our hospice inpatient unit, I thought of Juli. My dear friend, a fellow ballet dancer, 21 years old and a senior in college, Juli was raped and murdered. For me, it was the first time death, violence, and evil intent collided with my sheltered world. The grief of her friends and especially her family is beyond words.
Juli's convicted killer is now one of our nation's prison inmates. He may one day need hospice care. I asked myself, what if we were asked to care for Juli's killer? What would I do?
I came to several conclusions. I would be honest with our hospice team about my conflicts and make clear that I should be the last team member to serve him, and only if absolutely necessary. I would pray for him and his loved ones as well as our hospice team who serves him. And I would write a letter to Juli's parents, who are far more gracious and compassionate people than I can ever hope to be, and express that even though this man chose not to treat their daughter and my friend with anything close to the dignity she deserved, he has been treated with the dignity that all human beings deserve. His terrible wrong has not been forgotten nor negated; rather, it is simply not being held against him by caregivers as he dies. He has died a man and not a prisoner.
Every inmate convicted of a violent crime carries with him the precious memory of those he has hurt, people like my friend Juli. But if in our freedom we choose to treat prisoners with care and dignity, we are not imprisoned by the memories of what they have done.
As our nation's aging prison population explodes, we have not only a financial but also a moral imperative to confront the consequences of our system of mass incarceration. As a society, we must bring justice on behalf of those who have been grievously wronged. At the same time, the vulnerability of aged prisoners imposes a renewed responsibility for us to take a hard look at our criminal justice system, how we lock people up and when, and if, we set them free.
Image: Serving Life/OWN.