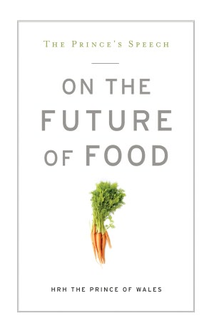 I've just received my copy of the book based on the speech given by Prince Charles at a conference I attended in Washington, D.C., a few months ago.
The tiny, 46-page book (published by Rodale and available online and at your local Indie) reprints the speech along with color photographs and a foreword by Wendell Berry and afterword by Eric Schlosser.
Grist asked me some questions about it.
What sticks out to you most in this speech/book? What surprised you? What do you most hope the reader comes away with?
I attended the meeting at which Prince Charles spoke and was impressed at the time by his broad overview and understanding of the problems inherent in industrial food and the implications of those problems. He described himself as a farmer, which was not exactly how I had imagined him. It's impressive that someone of his stature cares about these issues and is willing to go on record promoting a healthier food system.
Most Americans are probably not aware that Prince Charles is an organic farmer and long-term advocate of sustainable food. What do you think the ultimate value of hearing such an urgent message about the need to change our food system from him? In other words: Do you think it will have more weight/reach coming from him than, say, Michael Pollan or Alice Waters?