On That Spooky New York Leper Colony Everyone Is Talking About
You've probably seen it on a trip to New York, but you didn't know that North Brother Island was once home to an infectious disease clinic.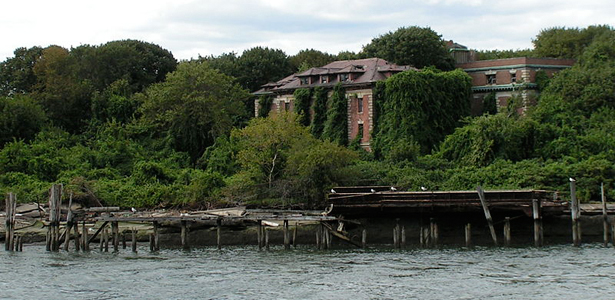 As part of its two-week-long experiment to generate as much traffic as possible, Gawker has published posts about donkey semen, Zooey Deschanel, Gwyneth Paltrow and lipstick lesbians, Zooey Deschanel, the time at which the Super Bowl will air this coming weekend (appropriately placed under the category "Traffic Whore"), and Zooey Deschanel. Earlier this afternoon, as a quick throwaway, Leah Beckmann put up a post entitled "New York's Abandoned Leper Colony Is the Spookiest." (And it is.) The post was just a short paragraph, two sentences long, and a handful of photographs taken by a self-described "guerrilla preservationist."
Smart move. The post, at the time of this writing, has already been viewed about 29,000 times. And, when Gawker's Brian Moylan wrote about the same "leper colony" almost exactly a year ago, his also-short post was viewed more than 150,000 times.
Publishing big, engaging photos, especially if they take viewers to a place they'll probably never get the chance to visit -- and getting out of the way quickly, with just minimal commentary or introduction -- is as close to a guaranteed hit on the Internet as it gets. (I know something about this, having written successful -- in terms of traffic, anyway -- posts that brought readers to the wreckage of the Titanic, into the bedroom of their favorite faceless bloggers, and inside a nuclear reactor.)
But some places require a bit more than just photos. A leper colony in New York? Quarantine zone? Crumbling walls? Ghosts? Don't you want to know more?
Having served as the editor-in-chief of Atlas Obscura, a compendium of the world's wonders, curiosities, and esoterica, before taking over what would become The Atlantic's Health channel, I know a thing or two about North Brother Island. Indeed, I've edited a short piece about it before. (Aside from the leper colony, North Brother Island is known as the site where the General Slocum steamship went up in flames with more than 1,000 people on board in 1905. For nearly 100 years, until the September 11 terrorist attacks in 2001, it was the worst loss of life in New York's history.)
Plopped down in the East River between Riker's Island and the Bronx, North Brother Island is a 13-acre piece of land that has never been completely developed. The only thing that was ever built there, unlike the larger Roosevelt Island nearby, was Riverside Hospital. Even though millions can see it from their windows or their commutes every day, few know about its history. And that's because few have ever set foot on it. Today, the island is a protected bird sanctuary, with a variety of species, including the two-foot-long Black-crowned Night Heron, calling it home. The birds roost on the open brick windows, in the frames of old beds, and on the large rafters running through what were once communal feeding spaces, green shoots breaking through the cement beneath them.
The birds are special. So special, in fact, that the only people allowed on the island are a handful of bird experts who visit to study them, the occasional film crew (North Brother Island was featured in a History Channel special, Life After People, that showed what would happen to buildings if abandoned for 45 years), and armed coastguards who circle the waters of the island to make sure looters and/or curious New Yorkers don't break through the quarantine zone.
But sometimes the coastguards are on break, or they turn a corner, leaving one side of the island unprotected, and people slip through the cracks. And they come back with stories. The hospital, it is said, still smells medicinal (this from a Radiolab producer who visited -- with permission from the parks department -- for a story on Typhoid Mary). The floors of the x-ray room are piled high with discarded film. Seats in an entertainment hall have all collapsed. The corridors, once home to hundreds of patients, echo when you walk through them. A door leading to the Nurse's Home is pocked with bullet holes. And otherwise normal items appear spooky and enchanted, like a 1954 Bronx phone book found open on a bench where its user must have last sat.
That would have been an outdated phone book, though, if it was used by one of Riverside's last residents. The hospital closed permanently in 1963 after serving for 11 years as home to an experimental drug program meant to treat juvenile offenders. The idea was to remove kids from the overcrowded jail system filled with more serious criminals and place them for six months in one of the observation wards at Riverside. After being ferried to the island, the kids, sentenced to the program by the court system or placed there by their parents, would be bathed, searched, and forced to quit their various addictions cold turkey. If problems arose, it is said that the kids were given their drug of choice in limited quantities and slowly weaned off. The kids -- 100 boys and 50 girls at a time -- were kept in an enormous pavilion originally constructed in 1943 to host tuberculosis patients. But it was never used for that purpose as the hospital closed for the first time that same year.
Had it continued operating as planned, though, the large tuberculosis pavilion would have been needed. For nearly 60 years, from the time the island was acquired by the city of New York in 1885 and Riverside was built on its north end, to the mid-1960s, the hospital was home to hundreds of patients who suffered from deadly and extremely communicable diseases, including smallpox, typhus, scarlet fever, yellow fever, and even leprosy.
Around that time, when New York was accepting huge numbers of immigrants from other countries and the majority were forced into crowded and unsanitary living quarters, these diseases were spreading quickly. The city had to do something. Riverside was its answer. But the situation there wasn't much better -- out of sight, out of mind. "Conditions were bad -- the mortality rate among patients was high and the recovery rate low," according to Ian Ference, the photographer who shot the pictures used by Gawker. Ference has been studying Riverside and North Brother Island since 2003 and is known for obtaining unprecedented access from New York City's parks department. He has visited about 15 times over the past three years, according to a profile the Daily Mail.
Patients lived in tents, pavilions, and cottages in and around the hospital. Those struggling with leprosy were confined to wooden shacks on the perimeter. When the weather was bad, the ferries that ran between North Brother Island and the Bronx were anchored and no food was delivered. According to those who survived and made it back to New York proper, life at Riverside was "the black hole of Calcutta."

Image: Remains of Riverside Hospital/Wikimedia Commons.