My Last Day: Le Bernardin's Pastry Chef Reflects on 8 Long Years
Michael Laiskonis plates each of the desserts on his menu for the final time while considering how he got into this business in the first place.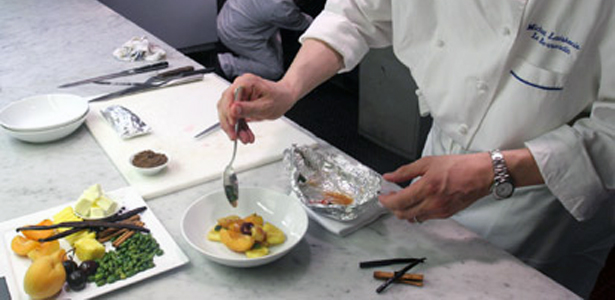 It's the week between Christmas and New Year's Day, a brief sigh in the restaurant world, a sharp contrast to the crescendo of busy-ness of the months preceding it. Today, I leave the apartment a few minutes earlier than normal. I've held down a reliable noon to midnight shift for most of my tenure as pastry chef at Le Bernardin. There were plenty of days that started at 6:00 a.m., and I recall more than a few nights that stretched well into the next day. Cooking at this level easily becomes an on-call 24 hours a day, seven days a week way of life. I often joke that my job offers me a great deal of flexibility and freedom to work any 12 hours a day that I choose. I'm padding things this morning because I know it's going to be a full, busy lunch service. Fridays always are. I also expect to stay on to plate the very last dessert of the night, which I'm predicting will spit out of the kitchen printer sometime around 1:00 a.m. It's an otherwise typical day, except for the fact that it's my last -- the last of nearly eight years full of intense New York minutes.
When I first read about Le Bernardin in 1992, I was a young cook hungry for knowledge and eager to climb my way up the ladder. At that time the cool, focused minimalism of Gilbert Le Coze's plates was a revelation to me: a piece of fish, a garnish, and a sauce. Eric Ripert had just joined the team at that point, via Jean Louis Palladin in Washington, D.C., and before that, Joel Robuchon's Jamin in Paris. Eric continues to hum the mantra of the fish as star of the plate, and when I took my post as pastry chef, I immediately subscribed to that sense of simplicity. I also had the benefit of following a long line of talented pastry chefs that informed my style: Florian Bellanger, Herve Poussot, and an early idol of mine, Francois Payard. It will always be my tendency to push at the edges of the envelope, but restraint is probably the most important trait I've gained from Eric, Maquy Le Coze, and my predecessors. I truly came of age at Le Bernardin. Working in a subtractive way, I think I've emerged a far more mature and confident cook.
I grab a plastic tumbler of coffee before settling into the pastry kitchen to assess how morning production is shaping up. On most days there is usually a figurative fire or two in need of putting out when I arrive -- a late delivery or a botched recipe that must be fixed. Things are quiet today.
"Hola, boys. Todo bien?" I say, surprising everyone with my early arrival.
"Oui, jefe, everything is good!" they reply in unison, a mash-up of languages not uncommon in New York kitchens.
Jaime is charge of setting up the line for lunch, and Walter and Jesus are methodically working their way through the daily production list. Walter looks up to say hello and then turns his attention back to a large container of cold vegetable oil, into which he pours mango puree from a squeeze bottle, one tiny drop at a time. The resulting caviar-like mango 'pearls' are part of our pistachio dessert, a prime example of how we've evolved in terms of technique and style. The dish is straightforward: pistachio mousse, caramelized white chocolate, the mango pearls. Each of the components work alone but also combine to create something greater than the sum of their parts. In earlier days I might have considered the sheer number of components on each plate the measure of success. Though I no longer beat guests over the head, over-emphasizing the underlying techniques we employ, this pistachio dessert does rely on a few of them. Now they exist solely in service of taste and texture, and not to satisfy my own ego.
My first task today, as it has been, is to stick my finger into the entire mise en place, to make sure everything tastes right, to make sure we have enough of each individual element. Jaime has been slowly perfecting the pate a choux puffs that serve as the base for one of our most popular desserts. Today's batch is textbook-perfect. We give the puffs an added crunch by topping them with an impossibly thin sheet of shortbread dough before baking.
Though we've added several techniques over the years -- call them "molecular," or "modernist," or simply "new" -- this dish represents a different direction for me as a chef. Pate a choux as we know it today has been part of the pastry repertoire since at least the days of Carême, who emerged as the pre-eminent pastry chef in post-Revolution France. If you would have told me a year ago that it would be the platform for a dessert on my menu, I would have laughed. Too simple. Too pedestrian. Yet this dish, a play on the classic French choux pastry known as religieuse, represents a desire to come full circle, back to the basics.
Rather than inspiring me to invent new things, what the whole modern cooking movement has given me is an appreciation for how everything works, from the structure and function of our humblest ingredients to seemingly simple but complex processes that result in miraculous things like a perfectly round, beautifully golden piece of pastry. Granted, I've given the staid choux contemporary currency with a filling of elderflower cream and a dusting of freeze-dried fruit powder.
Lunch service is a blur. By time we break down the pastry kitchen, we turn right around to begin setting up for dinner. It's 4:30 p.m., and the remaining staff is dug in, shoulder to shoulder: baking off tiny cannelés for the petit four tray, slicing thin strips of orange peel, punching out rectangles of green tea sponge exactly three centimeters wide. Yes, we use a ruler. Jose, my number two, and an anchor of the team long before I arrived, is piping out the soft batter that will become several hundred chestnut macarons, while I jump right into chocolate production. By the time our first dessert is sent to the pre-theater rush, I'll be able to knock out at least 30 dozen shiny salted caramel bonbons -- the liquid filling encased in a thin milk chocolate shell. When I began eight years ago, such an ambitious petit four program would have been unthinkable, yet we somehow fit it into our day.
Though the word executive has always been part of my title, I never really managed to tear myself away from the day-to-day hands-on work. Prior to running the dessert program at Le Bernardin, I'd never managed a staff greater than two. Here, today, we are nearly 10, and keeping each of them busy, efficient, and happy is no small feat. One thing that hasn't changed is my opinion that to effectively lead a team, one has to get down and dirty in the trenches and inspire by example.
Tonight is my last service, only because Le Bernardin has for years been closed on the last day of the year. With the New Year's Eve celebrations closing streets in and around Times Square, the restaurant is nearly impossible to get to. Midway through dinner, in between the busy seatings, we begin to prepare the kitchen for a rare two-day shutdown. It's only now that all of the lasts begin to sink in: the last birthday cake I decorate, the last produce order I call in, the last time I print off and fill in the prep list for Walter and Jesus. There is still too much to distract me from feeling too sentimental about things. I came close to getting choked up an hour ago, when I noticed Eric, who left the city earlier for a well-deserved break after the season, had sent me a congratulatory text message, wishing me a happy service.
I'm sure any rush of emotion will come to me later, next week perhaps, as I try to undo 15 years of restaurant routine and recalibrate my body's internal clock. In the not-so-distant past I used to think that if you weren't cooking in a fast-paced, high-stakes kitchen every night, you weren't a real chef. Or you'd gone soft, lost relevance, fallen out of touch.
It's a ridiculous notion, of course. As much as I push to produce every day and strive to create new dishes, I recently realized that with years of accumulated recipes and ideas to pursue, I'd need time to process it all, and a new platform from which to share it. I began to ponder how I might be more effective, more productive, and reach a wider audience. Eric encouraged me to start blogging four years ago, as a way to document the work I was doing in the kitchen; what began as humble musings has led to a book-in-progress. By reaching attentive young cooks well beyond my own kitchen, I began to see the value in handing down not just the technical skills, but the attitude and drive that helped propel me to this position in the first place.
There is still much to learn, too. I miss the feeling I had as a wide-eyed cook, when everything was new and exciting. I also miss the pit in my stomach, the uneasiness that comes with the ascent. As I gained confidence internally over the years, bolstered externally by the awards and media attention, that rush began to plateau. I'm lucky to have several opportunities to pursue, and I'm bursting at the seams to get to work on new projects. I am also terrified. And it feels great.
It's 11:15 p.m., and our last tables are seated. Among them, at Table 18, is a young pastry chef I met five years ago. He had spent a week or two in our kitchen as a short-term intern before going on to work his way into his own pastry chef position for a well-known chef in Baltimore. I've enjoyed seeing him garner attention of his own in the last year or two. A few weeks after the buzz surrounding my departure began to subside, he expressed his wish to be served my very last dessert at Le Bernardin. Once it was decided that tonight would be the night, we made sure he got his coveted 11:00 reservation.
"I hope you're saving room for dessert," I say as I greet the chef, joined by one of our longtime spice purveyors, who flew in from Indiana for the final dinner.
"That's why we're here, right?" he replies. The attending sommelier smiles as he tops off two flutes from a magnum of champagne.
"I'm still slammed back there in the kitchen," I say, looking at my watch.
"Well, we're celebrating now, even if you're not!"
By the time I return to service, the main kitchen is beginning to wind down. With just a handful of tables left for dessert, I'm still not all that relaxed. I do get my glass of champagne -- a ritual on anyone's last night here. Someone writes "86 Chef Michael" on the dry-erase board -- "86" being kitchen slang for running out of something. I hear the printer clattering away in the pastry station, and I realize the order for the last table has arrived. My plan is to send our young chef friend every single dessert on the menu, coursed out over four flights.
I begin work on the first course: black sesame panna cotta, with a liquid-center cherry sphere and mandarin orange sorbet, alongside a yuzu parfait and green tea ice cream. The rest of the pastry team starts to clean in earnest. I've decided to plate the last several desserts myself, each one for the last time. As I'm setting up the courses that will follow, my mind drifts to comedian Jerry Seinfeld; over a decade ago, he did all of his old bits one last time, and then put them into retirement. That's kind of how I feel.
All of the final plates are lined up. Just as I expected, it's just shy of 1:00 a.m. The last table has already received the metaphorical religieuse, and the "egg," the one signature dessert that will live on well after I'm gone. I can't even wrap my head around how many of the chocolate, caramel, and salt-filled eggshells we've served during my tenure. To say it has developed a cult following would be an understatement. My last four plates are quartet of chocolate desserts: milk chocolate and peanuts fashioned into an upscale version of a Snickers bar, a chocolate tart paired with sweet potato sorbet and red wine caramel, a velvety chocolate mousse with hazelnut and banana, and then a dense dark chocolate cremeux accented by olive oil and toasted bread. I place the finishing touches on each. I rummage through the stack of paper tickets and collect the four that fired each of Table 18's desserts. I follow the final tray into the dining room.
"Here are the final dupes, just in case someone asks for proof," I say as I place the tickets on the table and then collapse into a chair opposite my young friend.
He confesses, "I don't know what to say, other than thanks. All of this reminds me why I've always wanted to be a pastry chef."
Hearing those words reminds me why I've done all that I have, and what inspires me to push ahead. As sad as I am to close this chapter, and as excited as I am to set to work on something new, I realize that if I ever only did this one thing -- inspire one person to achieve their own greatness -- then, well, I guess I don't really ever have to do anything else.
Image: Associated Press.