Lego Prosthetic Arm Takes Custom Prostheses to a Whole New Level
Engineering student Max Shepherd has built a Lego prosthesis that accurately mimics the full range of motion of a normal human arm.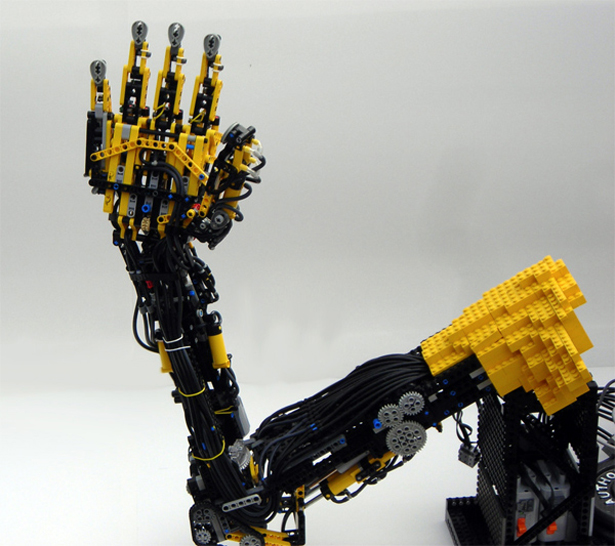 Lego is an attractive tool for biomedical engineers and scientists looking to create low cost custom mounts for their imaging equipment or looking to prototype novel prosthetic devices. We have covered a number of useful Lego medgadgets over the years. Few, though, have been as complex as a new Lego prosthetic arm developed by engineering student Max Shepherd.
Max developed and built the 12 degree of freedom prosthetic arm from Lego components as a means to accurately mimic the full range of motion of a normal human arm and hand. The hand movements are powered using Lego pneumatics while the wrist pronation/supination, wrist flexion/extension, and elbow flexion/extension are powered by Lego motors.
The arm was designed as an above elbow prosthesis and is currently limited to lifting a couple of pounds. It is controlled by a set of simple joysticks and switches, and the pneumatic actuators can be driven via a Lego air compressor or a series of hand pumps. Max's website and Tumblr page give a neat overview of the system along with some of his other projects.
---
This post also appears on medGadget, an Atlantic partner site.