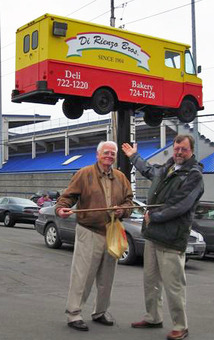 Who hasn't heard the phrase, "the best thing since sliced bread?" Bread is one of our oldest and most basic sources of nourishment ... and just the mention of it brings back vivid childhood memories of visiting my cousins, the Di Rienzos, at their bakery in Binghamton, New York. I looked forward to the times I could ride with them on their truck as they delivered loaves of fresh Italian bread and rolls to shops and schools in their area. The pre-dawn aroma of fresh baked bread remains with me to this day. We must have delivered hundreds of loaves each day, and I always wondered how a middling-sized bakery could turn out so much bread. The answer of course lies in mechanization.
The making of bread is one of the oldest food technologies, going as far back as the Neolithic era, coeval and linked with the brewing of beer. It was also one of the first food products to succumb to automatic machinery, from the mass production and bleaching of flour, kneading of the dough, baking in continuous ovens, and, finally, to the slicing and wrapping of the bread. Much of the mechanization derived from Europe in the 19th century but peaked in the American Midwest during the 1920s and 1930s.
Bread-making technology spawned many inventions and patents, like the bread-slicer. While the earliest bread-cutting devices using parallel blades appeared in America in the 1860s, they sat on the shelf for decades, awaiting the introduction of other machines capable of producing loaves of uniform shape, size, and consistency.