Black Cheese, Green Meat, and Beer in a Can
From high school I recall some amateur-psychology experiment about the power of sensory incongruities. If you were offered a piece of cheese that was colored black, or a slice of meat that was green, you would think, Yucckkk!, even if its taste was perfectly fine.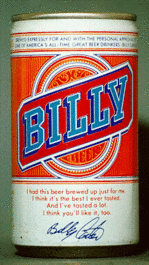 I'm not going to get into whether this behavior is learned, innate, evolutionarily sensible, or whatever. I'll just say that I have the same reaction to beer in a can. If it is coming from a metal housing -- like the one at the right, which I saw all too often in my long-lost years in Texas -- then I (snobbishly) assume it is not going to be very good. Or, even worse, the one at the left, popular during an era in American history I don't even tell my children about.
Imagine then my confusion at encountering the beer below in a local store. It's is called Dale's Pale Ale, and it looks like it comes from the same schlock brewing tradition as Texas Pride. I would have instinctively shied even from getting close to it on the rack, let alone buying or drinking it -- were it not for a reader's note saying: Never mind that it's in a can, it's good.
And it is! Here it is, shown on this sunny February afternoon in DC.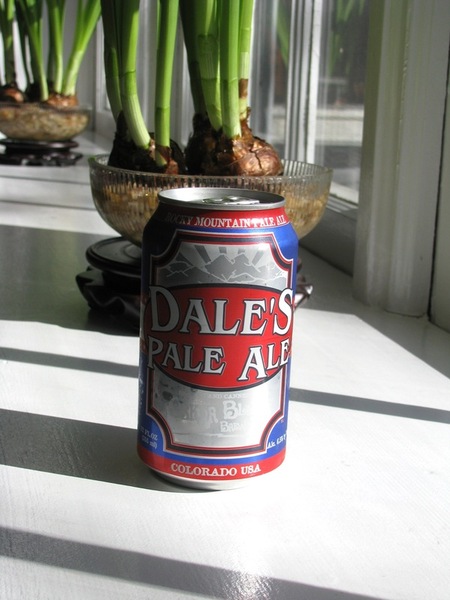 Historians of the American craft-brew wars are presumably well familiar, as I was not, with Dale's Pale Ale and the Oskar Blues brewery in Colorado that produces it. The brewer who came up with the formula tells the Creation Story of the beer, and the brewery has an official-description page that tells more about its pedigree, awards, and so on. The brewery also includes this claim to restoring the dignity of canned beers as a whole:

America's first hand-canned craft beer is a voluminously hopped mutha that delivers a hoppy nose, assertive-but-balanced flavors of pale malts and hops from start to finish. First canned in 2002, Dale's Pale Ale is a hearty (6.5% and 65 IBUs), critically acclaimed trailblazer that has changed the way craft beer fiends perceive canned beer.
I'll say: it's a start. Try it for yourself. And if you're tempted to send me a lecture about not judging things on appearance, I'll say: Yeah, yeah, tell me about it when you're eating green meat.