A Diabetes Management System Controlled by Your Smartphone
London's Cellnovo has received approval for a system that includes a wirelessly connected insulin pump, activity monitor, and glucometer.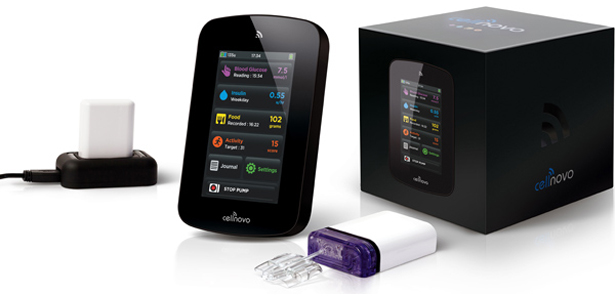 Having received European CE Mark approval in September, Cellnovo out of London has launched its diabetes management system that looks like a smartphone system, but is actually an integrated glucometer, wirelessly connected insulin pump, activity monitor, and cell phone-based data transfer system to share readings with family and clinicians.
To kick off the release of the system, Cellnovo launched a usability trial involving type 1 diabetics whose doctors will be able to monitor their blood glucose levels in real time as they're being measured.
Co-trialist, Dr Mark Evans of Addenbrookes Hospital in Cambridge, commented, "This technology represents an entirely new model for the management of diabetes and one that could be of direct and long-term financial benefit to the NHS. The effective management of diabetes requires masses of information. The more information we have, and the more rapidly we have it, the better job we can do of using our resources efficiently to prevent the devastating long-term complications of diabetes. The Cellnovo system is the world's first both to automate and deliver instantly the information we need -- a task achieved through the thoughtful and thorough integration of consumer technology, such as wireless and cellular, with medical sensor and precision pump technologies."

Co-trialist, Professor Stephen Greene of the University of Dundee added, "The Cellnovo system provides us immediate access to the clinical status of all our patients on a single screen. With accurate and current information we can identify and address problems immediately that, otherwise, might go unnoticed for months, contributing to excess cost and potentially tragic patient complications. In this clinical trial we will be the first to explore these new opportunities in diabetes patient management and hope to uncover new ways to improve and extend care, optimise workflow and drive cost efficiencies."
Image: Cellnovo.
---
This post also appears on medGadget, an Atlantic partner site.