The Social Programs That Could Help End Malnutrition in India
Feeding programs are emergency measures. Long-term solutions come from eradicating worms, educating women, and cleaning water.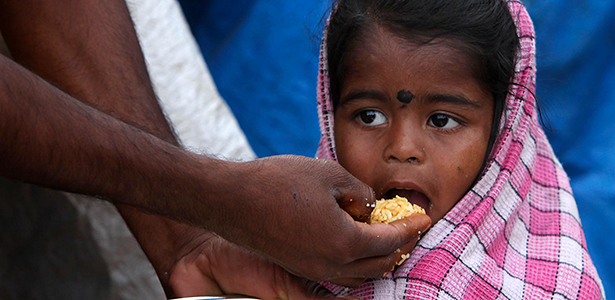 The New York Times reported a shocking statistic recently: About 42 percent of children under age five living in India suffer from malnutrition and are "wasted" (low weight for height).
The figure comes from the Hungama survey of 73,000 Indian households conducted by the Naandi Foundation. It reports an even more troubling statistic: Nearly 59 percent of Indian children under age five are "stunted" (low height for age).
The Hangama report holds one hopeful note. Rates of childhood malnutrition in India fell by 20 percent during the past seven years.
But have they?
According to a more detailed analysis in another New York Times piece:
Despite the recent boom years of the 1990s and 2000s, there has been little improvement in overall nutrition in India, according to United Nations data. About 20 percent of India's over one billion population remained "undernourished" during that time, meaning their "food intake regularly provides less than their minimum energy requirements." The most recent "Global Hunger Index" shows that two-thirds of the 122 developing countries studied had reduced hunger levels in recent years, but that hunger levels in India have increased.
Ending malnutrition is a matter of political will. If India wanted to address childhood malnutrition in any serious way, it could.
How? Feeding programs are emergency measures. Long-term solutions require institution of social programs:
Promote breastfeeding,
Educate and empower women
Build toilets
Clean up water supplies
Eradicate worms
Reduce income inequality
Two recent books summarize the research behind these ideas and explain what causes widespread hunger and what to do about it. They make it clear that eradicating childhood malnutrition should be a first priority for any government:
Olivier De Schutter and Kaitlin Cordes, editors: Accounting for Hunger: The Right to Food in the Era of Globalisation (Studies in International Law), Hart, 2011.
Per Pinstrup-Anderson P and Derrill D. Watson II: Food Policy for Development Countries: The Role of Government in Global, National, and Local Food Systems, Cornell University Press, 2011.
Image: Mahesh Kumar A/Associated Press.

This post also appears on Food Politics, an Atlantic partner site.