The Power of Chef Cookbooks
When he was reviewing restaurants for the New York Times, writer Frank Bruni was in the power seat. But when he tests his skills with new chef cookbooks, he finds himself feeling vulnerable.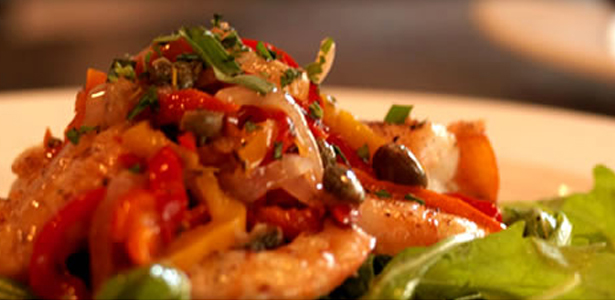 In many ways, I feel I know the chef Jonathan Waxman, because I've paid so many visits to Barbuto, his enduringly popular restaurant in Manhattan's West Village, where the retractable glass walls magically blur the dividing line between dining room and sidewalk and the roasted chicken is a juicy miracle. I know the chef Nancy Silverton, too -- from Pizzeria Mozza in Los Angeles, where she's the queen of blistered dough. Across numerous trips to the restaurant, I've reveled in her work.
So as I recently cracked open a new cookbook by Waxman and an upcoming one by Silverton, I felt like I was reconnecting with old acquaintances. This time around, though, I was radically altering the terms of our relationships. In the past, they had fed me, on their own turf. Now I was asking them to help me feed myself, and inviting them, in a manner of speaking, into my own kitchen. How would that go? And would I see them in a different light?

MORE FROM FOOD & WINE
---
Those questions could be asked by many home cooks under the tutelage of chefs and their cookbooks. But my situation had its own peculiarity. Most of the times I'd dined at Barbuto and Pizzeria Mozza, I'd done so as the restaurant critic for the New York Times. I'd been testing Waxman and Silverton, with an eye out for their errors as well as their triumphs. Now, at my stove, I was looking to them only for inspiration and a positive outcome. Hope supplanted skepticism, and in a turning of the tables, I was suddenly the vulnerable one.
As an eater, I'm a champ. The way a Real Housewife approaches her next Botox injection, I approach pork belly and penne and the rest of it. But as a cook, I'm flawed. I'm impatient and easily distracted, and my fine motor skills aren't keen, which you'd know if you've ever seen me dice an onion.
During my five-and-a-half years as a restaurant critic, that didn't matter. I ate out six or even seven nights a week; there wasn't much call to roll up my sleeves in the kitchen. But once I stopped reviewing, I wanted to do precisely that. I felt certain that, with a little more effort, I could be an accomplished home cook. I had the food knowledge. I had the food sense.
It was in this frame of mind that I turned to Italian, My Way by Waxman and The Mozza Cookbook by Silverton. Both volumes were among the many cookbooks I was now leafing through, and with these two in particular, I was struck by how fully and faithfully a chef's personality can translate from restaurant to page. Although my experiences at Barbuto hadn't been uniformly enchanting, I'd been impressed by the straightforwardness of Waxman's approach, by the strong, uncluttered flavors he put on a plate. When I thought of Barbuto, I thought of meat and fish given respect, and I thought of pasta dishes with clear and often rustic personalities. When I perused Italian, My Way, all of that was there. I wanted to make the hanger steak, the spaghetti alla carbonara. And of course I wanted to make the roasted chicken. As for The Mozza Cookbook, its lavish presentation of unusually lovely photographs seemed just right. In Pizzeria Mozza's pies, salads, and antipasti, Silverton takes full advantage of California's vivid produce. Her book, like her menus, casts the universe as a luxurious garden.
Both Waxman's and Silverton's books provide reminders of why, even for the most skilled home cooks, restaurants can't really be beat: Their kitchens are equipped in inimitable ways. In his roast chicken recipe, Waxman glancingly acknowledges that he's suggesting the best alternative to Barbuto's wood-burning oven, which can reach temperatures above 700 degrees. Likewise, Silverton can't guide you to a pie precisely like those at Pizzeria Mozza, where she, too, avails herself of an intense heat home cooks wouldn't -- and can't -- broach.
I made the chicken in Italian, My Way, which cooks for 35 minutes at 450 degrees. I cheated. Waxman called for a sizzle platter, the metal plate chefs use to keep food hot. I chose a glass baking dish. He wanted me to cut up a whole chicken. I knew having a butcher quarter it for me would be a prudent insurance policy against the kind of injury I court whenever I do knife work. His recipe was sturdy enough to accommodate such tinkering. The bird came through tender and moist.
And if the skin wasn't Barbuto-crisp, well, the salsa verde Waxman often serves at his restaurant compensated. In Italian, My Way, he recommends a mortar and pestle; after a few messy minutes, I resorted to a food processor. The results might have been a little too pesto-smooth, but the anchovy, caper, and herb flavors were all there, and wonderful.
For my readiness to improvise, I in part credit Waxman. Italian, My Way instilled a crucial self-assurance in me. Cookbooks, I am learning, are largely about tone, and Waxman's was briskly, infectiously confident. It left little room for second-guessing -- of him or of myself.
The Mozza Cookbook was more lyrical and nurturing, and that had its own benefit: I wanted to spend time in the space Silverton created. Still, I minimized risk by homing in on a simple salad of Little Gem lettuce, yellow squash, toasted walnuts, and pecorino, which required by-the-letter grocery shopping more than any culinary derring-do.
I also made Silverton's ricotta gnudi, the production of which promised the kneading and molding pleasures of Play-Doh. Silverton didn't specify cow's-milk or sheep's-milk ricotta; I assumed the former and got to work on the boiled-then-sautéed gnudi with a divine chanterelle sauce. You can't go very wrong with mushrooms, butter, and olive oil, all present in significant quantity here. It was as if Silverton had tailored this recipe for a cook as grudging as me.
It's funny: Although I spent much less time with their cookbooks than I had in their restaurants, I felt a stronger connection to both chefs when I was at the stove. Maybe I'll widen the circle and reach out to the likes of Thomas Keller and Eric Ripert. They, too, have cookbooks in addition to restaurants I've enjoyed, and might be able to nudge me along.
---
This story also appears on Food & Wine, an Atlantic partner site.