The FDA Fast Tracks a Vaccine to Fight Pneumonia in Older Adults
Pfizer Inc.'s Prevnar, which is already approved in the European Union, could help to save about 300,000 people in the United States.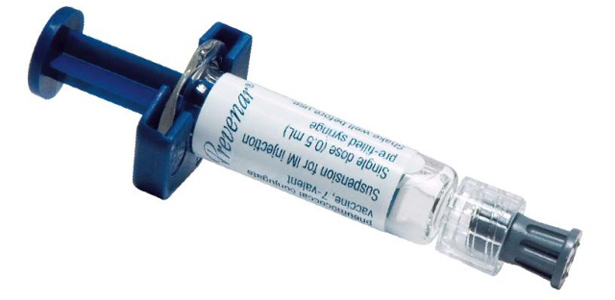 U.S. health regulators approved the expansion of Pfizer Inc's blockbuster Prevnar vaccine for use in adults 50 and older to fight pneumonia, meningitis, and other diseases cause by pneumococcus bacteria.
Prevnar 13 is designed to fight 13 forms of a bacterium called Streptococcus pneumoniae, or pneumococcus. Pneumonia caused by the pneumococcal organism is one of the biggest causes of death in older people and its incidence begins to increase after age 50.
The vaccine, which had been approved for children in the United States, is already one of Pfizer's biggest brands and an expanded population of adults could generate more than $1.5 billion in annual sales.
The Food and Drug Administration said about 300,000 adults in the United States in that older age group are hospitalized each year because of pneumococcal pneumonia. "Pneumococcal disease is a substantial cause of illness and death," said Dr. Karen Midthun, director of FDA's Center for Biologics Evaluation and Research. "Approval provides an additional vaccine for preventing pneumococcal pneumonia and invasive disease in this age group."
Pfizer's vaccine was considered under the FDA's accelerated approval process, meaning the agency believed the medicine represents an unmet medical need.
In November, the vaccine secured the support of FDA advisers, who found it safe and as effective as Merck & Co's Pneumovax, which is currently the only vaccine for pneumococcal bacteria approved in the United States for adults 50 years of age or older.
The FDA has said the older vaccine from Merck, known as a free polysaccharide vaccine, was effective against invasive pneumonia, but was not shown to have an effect on pneumococcal pneumonia, which is more common in adults. Prevnar 13 belongs to a new generation of pneumococcal vaccines known as conjugates, which can trigger a stronger and longer-lasting immune response.
The vaccine can protect against pneumonia, when the pneumococcus bacteria infects the lungs, and is also effective against the bacteria's spread to other parts of the body such as the blood or spinal fluid. Side effects were similar to those for Merck's Pneumovax, including swelling at the injection site, fatigue, headache, and muscle and joint pain.
The vaccine is already approved for adults aged 50 and older in the European Union, Australia, Bolivia, Colombia, Ecuador, Thailand, and the Philippines, Pfizer said. In total, the Prevnar franchise -- known as Prevenar in Europe and other countries -- had about $3.7 billion in global sales last year.
Under the conditions for accelerated approval, Pfizer must conduct a study to confirm Prevnar 13 can actually prevent pneumococcal pneumonia in adults, not just cause the body to produce antibodies -- which is typically used as a surrogate in clinical trials, the FDA said. Results of the confirmatory trial, which enrolled more than 80,000 subjects in the Netherlands, are expected in 2013.
Image: Pfizer Inc.