The Entirely Defensible Fad for Limited-Edition, Barrel-Aged Gin
While most of them are limited and very, very local, a host of distilleries have released gins of this variety--and they're all worth trying.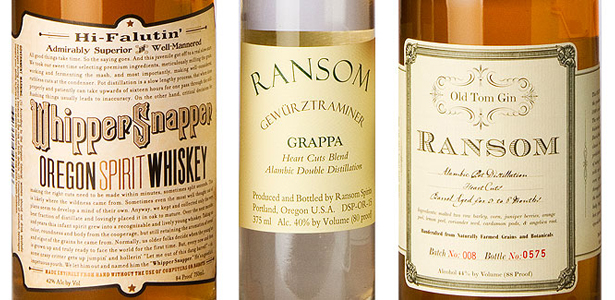 When it comes to spirits, you don't get much different than whiskey and gin. One relies on oak and time for its flavor, the other on intricate combinations of juniper berries and botanicals. Whiskey is slow and mysterious, almost alchemical -- who knows what goes on in those barrels? -- while gin is quickly efficient and rational. Whiskey is made by wizards; gin comes from scientists.
And I love them both. Which is why I greet the current fad for barrel-aged gin with open arms (and liver). Over the last two years a clutch of small distilleries have been releasing limited-edition brown gins, usually aged for about six months. The result is a rich, oaky flavor, a great alternative for classic gin and whiskey cocktails alike -- and not bad straight, either.
This spring, Roundhouse Spirits, out of Boulder, Colorado, offered a limited-edition Imperial Gin, the result of resting their standard gin in oak barrels for six months. Others, including Corsair, Breukelen, Rusty Blade, and Ransom, have likewise released barrel-aged gins, though the Ransom is the only one you're likely to find in your liquor store: the rest are limited and very, very local.
My favorite so far (and the most widely available) is Lucas Bols's Barrel-Aged Genever. Unlike most gins available in the United States, Bols and other Dutch gins, or genevers, use a maltwine base, a combination of corn, rye, and wheat. They are also less intensely distilled, and usually through pot, rather than column, stills, producing a robust whiskey-like quaff, which connoisseurs prefer to drink chilled and neat. It's thick, like a liqueur; you wouldn't think to mix it with tonic for a summer-day quencher.
Bols then lays up the gin for 18 months in barrels made from French oak from the Limousin region. As wine drinkers know, French oak has a tighter grain than its American cousin, resulting in a slower and more subtle diffusion of flavors. Which may explain why, despite a year and a half on wood, Bols Barrel-Aged Genever has a delicate honey color, while the nose and flavor retain unmistakable juniper notes. But there's also a lot of honey and ginger in there, too, making it a nice choice for an after-dinner drink. Treat it like whiskey, mix it like gin: This liquor plays many roles, and plays them very well.
Image: Ransom.