'Stylish Stouts' in 1919: The Year Plus-Size Models Were Adored
In a 93-year-old Atlantic article, the author tells us that "all the beauty-parlor pummeling ... is obsolete, for obesity has come into its own."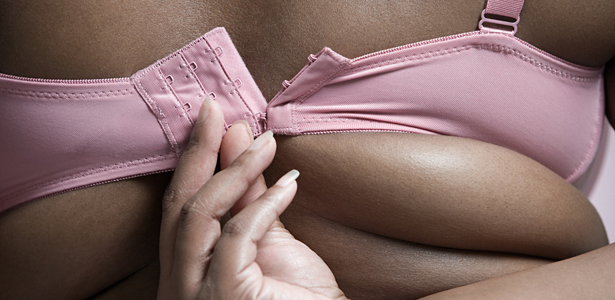 Earlier this week, Emme Aronson, the size 14 model perhaps best known for her time as Revlon's spokeswoman, spoke out against formerly full-figured fashionistas who have slimmed down in recent years. "It's a personal decision, but I wonder if it is self-motivated or caused by pressure from the outside," Aronson told RadarOnline.com. "Sophie," Aronson said, referring to model Sophie Dahl, who has quickly dropped from a size 16 to a size 10, "was absolutely gorgeous with her curves, it was a vision. She was beautiful and it was desirable to see her like that."
Aronson's comments made a splash, perhaps because of her stature in modeling circles, but she's just the latest in a string of pro-plus advocates to take a stand against skinny. In an eight-page spread for PLUS Model Magazine, Katya Zharkova shed her clothes to make a statement. Posing nude alongside and above controversial captions -- "Most runway models meet the Body Mass Index physical criteria for Anorexia," "Twenty years ago the average fashion model weights eight percent less than the average woman; today she weighs 23 percent less" -- Zharkova grins for and works the camera. Until the fifth page of the spread. There, Zharkova is shown embracing another model, one who might look like your standard runway girl in her own spread but here appears to be nothing short of malnourished.
A representative comment from Styleite's treatment of the PLUS Model spread: "The thin model looks hideously skinny next to the plus size model. Please let's start showing our young girls that women don't look like that unless they starve!"
It wasn't always this way. Just as Western fashion moves in cycles, so too does our idea of physical beauty as represented by models. It's been said that Twiggy, the British model, singer, and actress, was a turning point in the mid-1960s. Before her, models were voluptuous. (And even Twiggy, known for 110-pound, 31-23-32 frame, said, years ago, that today's models are just too thin.) But before models were voluptuous, they were, well, Twiggy-like. So when did the last cycle start?
Sometime around 1919, according to the February issue of The Atlantic from that year. In an article entitled "Stylish Stouts," the author argues that "the anti-fat nostrum, the recipes for rolling, the panting mountain climb, all the many-doctored advice, all the beauty-parlor pummeling -- all this is obsolete, for obesity has come into its own."
The corpulent dame now has dresses made to exhibit, not to conceal, her shapeliness; these throng authentic fashion-sheets. She has her own clothes, not the adapted 'line' of the lean and lovely sylph. The fat woman is no longer done out of her inheritance by a cruel and carping world. She has become a 'stylish stout.'

The 'stout' is even entering story, not for farcical effect either. There is an increasing number of portly heroines in fiction. The male novelist still averts his eyes a little when he makes one. He leaves his 'outlines' a bit vague, out of deference for past convention; for he knows he is an innovator. Fiction is always far in arrear of popular opinion, but there are a few romancers who are coming abreast of the times in portraiture. Alice of Buried Alive is a dumpy darling, and her charm is increased rather than diminished by the fact that she is fat. There is nothing neurasthenic about a well-padded person. The obese are always amiable. Older and wiser than we, the Oriental has incorporated this fact in his daily philosophy.
In 1919, the Westerner was "still at that callow stage of development when he tries to persuade himself that a woman, because she is good to look at, is also good to live with," according to the article. The Westerner was unlike those in the Orient, where "knowing that fat women are good to live with, the harem husband long ago persuaded both himself and the ladies that they are equally good to look at." It's been more than 90 years since, and we still haven't stopped trying to persuade ourselves. Or we did, but then we started again.
Read the full story, "Stylish Stouts," here.
Image: AISPIX/Shutterstock.