Study of the Day: Babies Won't Mimic People That They Don't Trust
New research suggests that infants just a little over a year old can tell credible sources from dubious ones, and this informs their decisions.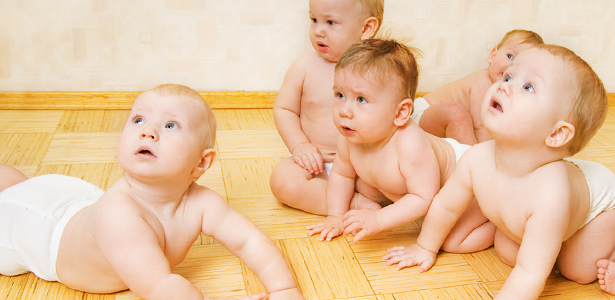 PROBLEM: Infants are impressionable. They observe and imitate movements, expressions, and sounds around them, often in adorable ways. But how do they choose who they copy?
METHODOLOGY: Concordia University researchers Diane Poulin-Dubois, Ivy Brooker, and Alexandra Polonia assigned 60 infants, aged 13 to 16 months, to groups with either reliable or unreliable testers. In a first task designed to show the instructor's credibility or lack thereof, the experimenter excitedly looked inside a container and invited the babies to discover whether the box actually contained a toy or was empty. Then, in a second task, the same experimenter used her forehead instead of her hands to turn on a push-on light and observed whether infants would follow suit.
RESULTS: Sixty-one percent of the babies with credible instructors turned on the light, but only 34 percent of the infants with untrustworthy testers did so.
CONCLUSION: Babies choose not to learn from someone they mistrust. Senior researcher Poulin-Dubois says in a statement: "Like older children, infants keep track of an individual's history of being accurate or inaccurate and use this information to guide their subsequent learning."
SOURCE: The full study, "Infants Prefer to Imitate a Reliable Person" (PDF), is published in the journal Infant Behavior and Development.
Image: Nejron Photo/Shutterstock.