PepsiCo Mexico's President on His Company's Core Growth Market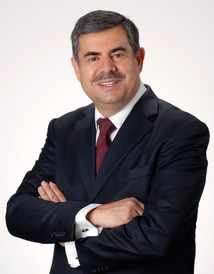 The president of PepsiCo Mexico, Pedro Padierna is a key figure in the expansion plans for what's already the second largest food and beverage company in the country, with 55,000 associates. You'll be hearing more about him in the coming months and years as Mexico is considered a core growth market for PepsiCo (the umbrella company behind Quaker, Tropicana, Gatorade, Frito-Lay, Pepsi Cola, and other businesses), which already employs nearly 300,000 people worldwide and enjoys net revenues of approximately $60 billion.
Padierna's decisions as leader of PepsiCo Mexico's food businesses (Sabritas, Gamesa-Quaker, Sonric's) will have a significant impact on the country's agricultural market -- and everything (and everyone) that touches it. Consider this: PepsiCo buys more than one out of every five potatoes grown in Mexico and is already the biggest buyer of wheat inside the country.
What do you say when people ask you, "What do you do?"
Operationally I have responsibility for PepsiCo's food business in Mexico, which includes brands such as Sabritas, Gamesa-Quaker, and Sonric's, but I'm also the face of the company on the beverage side. It's ensuring strong business results but also meeting with customers and government officials to see that PepsiCo is represented as a solid citizen.
I'm also head of the Executive Council of Global Enterprises made up of 38 global companies with strong presence in Mexico which together represent 10 percent of the country's GDP and more than 11 percent of exports made in Mexico. We work to position Mexico as a competitive country and attract investments. This provides an important platform for me to present PepsiCo as a public opinion leader and work across industries.
What new idea or innovation is having the most significant impact on food?
There's a health and wellness trend in Mexico but it doesn't necessarily mean less sugar and fat. In fact, sugar-free beverages make up less than five percent of the market. People feel foods are healthier when they're close to nature. They want to understand how ingredients are grown. Stevia, as a natural zero calorie sweetener for beverages, has received a warm welcome because it comes from a South American plant source. In the case of Quaker, we've seen tremendous brand growth in adding natural, local ingredients like the chia seed to Instant Quaker Oats. It's an ancient grain in Mexico that people know from their mothers and grandmothers.
What's something that most people just don't understand about your area of expertise?
People see the first layer of the company -- delicious products -- but they're often surprised at the impact we have on the economy. We have 55,000 associates and visibility in the most remote corners of the country. We make two million visits to customers every week and reach even the smallest stores that are the livelihood for families. I also try to get people to understand PepsiCo as an agricultural company. We buy 22 percent of all of the potatoes that are produced in Mexico. We're one of the biggest buyers of wheat inside the country. All of our products come from the fields in some way so we have to work very closely with our farmers. PepsiCo's a company that develops jobs and creates wealth that's well distributed within Mexico.
What's an emerging trend that you think will shake up the food world?
Sustainability. Consumers want to hear that you're a good steward of the environment almost in the same breath as health and wellness. We've been stepping up our efforts here to tell a more complete story. Mexico is a dry country and water conservation is especially critical in the area of food and beverage production. Through water treatments we now recycle half of the water used in our food plants. In Oaxaca, PepsiCo buys 25 percent of its energy needs from wind farms. We're at the forefront sourcing green energy and at the same time supporting a state facing an economic challenge. When we make a claim, we are very careful to make sure it's viable and work with authorities to gain credibility. This goes for both health and wellness and sustainability. We have to be able to back it up.
What's a food trend that you wish would go away?
Miracle solutions. We're subject to continuous fads, different diets. There's even a moon diet in Mexico, where you eat certain foods during a full moon. We continuously try to communicate to the public that they should eat a variety of foods in the right amounts -- an everything in moderation approach. Solutions that over promise are really misleading the consumer.
What's an idea you became fascinated with but that ended up taking you off track?
Over five years ago an inventor in the U.K. came to us with a technology that produced a non-fat baked potato in the form of stick or fry. It was a captivating concept and after meeting with him we ended up buying his technology. Our R&D team developed a great product but it wasn't a commercial success. We thought consumers would love it, but we were blinded by the use of pure potato to create a healthier product and overinvested to satisfy a niche.
Who are three people in the food world that you'd put in a Hall of Fame?
Pedro Marcos Noriega was the local founder of Sabritas, which, translated, means delicious appetizers. He created one of the favorite food companies in Mexico with two simple products -- potato chips and a wheat flour pork rind -- under the Sabritones brand. Before PepsiCo purchased the company and expanded the distribution system, he serviced a small network of customers with just 15 bicycles.
My former boss Rogelio Rebolledo retired from the company about five years ago. He was one of the pioneers of PepsiCo Mexico, set the groundwork for our expansion in South America, and supported the great expansion of our food business in China and India. He made a significant impact on our company's global footprint but always conducted himself in a very modest and humble manner.
And Thomas Keller. I travel often and enjoy amazing meals, but I'm always impressed and inspired by this chef. As a family we've had the pleasure to go to The French Laundry. The importance of quality and consistency comes through in his food, and it is applicable to my business and across the industry.
What other field or occupation did you consider going into?
I worked in the Ministry of Tourism for four years as the director of marketing and promotion. It was my first international experience, and I traveled the world promoting Mexico and learned how to relate to other cultures. Working for the government was not for me, but I gained valuable insights of how to approach, interact with, and support government officials to do my job better. It was a valuable experience in public service, but much work in social responsibility can be done from the private sector.
What website or app most helps you do your job on a daily basis?
I frequent several news websites on my iPad so that I know what's going on in business before I come to the office. News apps also help me stay ahead of the game. LinkedIn's app is great for seeing changes in organizational structures and getting network updates. The Weather Channel is my other go-to. I'm often traveling between Mexico and New York for work or to other cities in Europe for vacation.
What song's been stuck in your head lately?
ABBA's "Dancing Queen." My family and I recently did a road trip in Europe. Everybody was pulling out their playlists but this was something my two grown boys liked and my wife loves. We could all agree on ABBA's greatest hits.