Don't Stop Doing It, but Exercise Won't Prevent Gestational Diabetes
A new clinical trial has disappointing results for doctors trying to stop a disease that can lead to severe complications for both mother and child.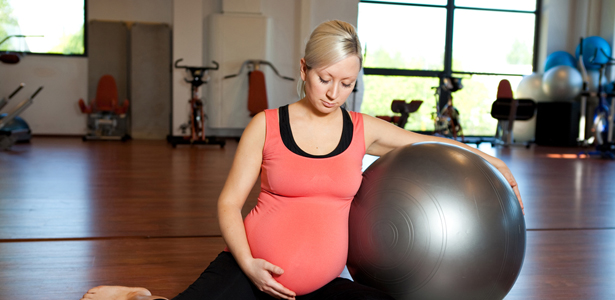 Pregnant women who exercised regularly during the second half of their pregnancies did not lower their odds of developing pregnancy-related diabetes in a new clinical trial.
Researchers in Norway found that when they randomly assigned 855 pregnant women to either exercise three times a week or to stick with regular prenatal care alone, the exercisers were no less likely to develop gestational diabetes. By the third trimester, seven percent of the exercise group had been diagnosed with gestational diabetes, versus six percent of the comparison group.
The findings were surprising, according to lead researcher Signe N. Stafne of the Norwegian University of Science and Technology in Trondheim. For the general population, exercise is considered an important part of preventing and treating type 2 diabetes -- the common form of diabetes that most often arises during middle-age or later.
It's possible, Stafne told Reuters Health in an email, that exercise does not have the same effect on gestational diabetes that it does on type 2. But even if that's true, Stafne pointed out, there are still reasons for pregnant women to get moderate exercise: including their overall health and keeping their weight gain within the recommended limits.
It's estimated that up to 14 percent of pregnant women worldwide develop gestational diabetes, in which blood sugar levels rise too high. The condition goes away after childbirth, but it does raise the risk of certain other pregnancy problems -- like having an abnormally large baby, which may require a cesarean delivery. Women with gestational diabetes are also at greater-than-normal risk of developing type 2 diabetes later in life.
While exercise can curb people's risk of type 2 diabetes, it has not been clear whether it can stave off gestational diabetes. So for the new study, reported in the journal Obstetrics & Gynecology, Stafne's team randomly assigned 855 pregnant women to either join a supervised exercise program or just continue their usual prenatal care.
All of the women were in their 18th to 22nd week of pregnancy. Those in the exercise program took an hour-long class once a week for 12 weeks -- doing low-impact aerobics, plus strengthening and stretching exercises. They were also given an at-home workout to do twice a week. In the end, the exercise program showed no effect on gestational diabetes rates. But an obstetrician not involved in the study cautioned that the findings do not mean exercise is no help to pregnant women.
A key issue is that only 55 percent of women in the exercise group actually stuck with their routine, said Dr. Rita W. Driggers, director of the maternal-fetal medicine fellowship program at Washington Hospital Center in Washington, D.C.
What the study more clearly shows is that it's hard to get pregnant women to exercise regularly, Driggers told Reuters Health in an email -- just as it's hard to get people in general to exercise, she noted.
She also pointed out that only 13 percent of the women in the study were exercising at a moderate to high intensity three times a week when they entered the study. And that's the level the exercisers were asked to adopt. It might have been asking too much for many women, according to Driggers.
The American College of Obstetricians and Gynecologists suggests that healthy pregnant women try to be active -- with moderate activities like walking -- for 30 minutes a day on most, if not all, days of the week.
One possible explanation for the new study's results, Stafne said, is that starting exercise in the second trimester is too late. "It could be that exercise before pregnancy and in early pregnancy is more important, due to the metabolic changes that occur in early pregnancy."
The women in this study were also at relatively low risk for gestational diabetes because they were in the normal weight range, on average, when they entered the study. A study focused on overweight and obese women -- who are at increased risk of gestational diabetes -- might find different results, Stafne said.
In general, the researcher noted, more studies are needed to figure out how to best lower women's risk of pregnancy-related diabetes. "There are still many unanswered questions regarding gestational diabetes and the prevention of it," Stafne said.
Image: Elina Manninen/Shutterstock.