An Agoraphobic's Connection to the Outside World: 4,500 Menus
Virginia Mericle rarely ever left her house, but she spent decades collecting menus from both the U.S. and abroad for her personal collection.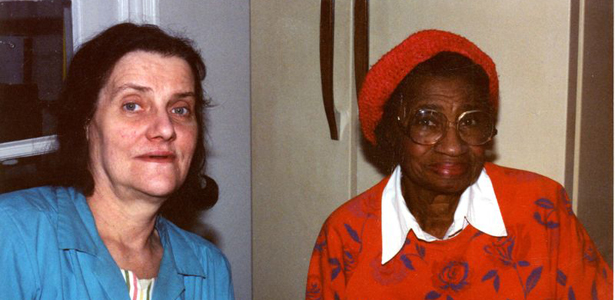 Virginia Mericle (left) collected 4,500 menus.
The museum recently received an exciting addition to its archival collections: 4,500 menus from restaurants across the United States and abroad. The menus were collected by Virginia Mericle throughout the 1960s-1990s. Mericle passed away in 2009, and her daughter, Vanessa Henderson, donated the collection last year.
Mericle was a life-long collector. As a star-struck 16 year old, she would write to movie studios and request photographs of actors. Bing Crosby, John Wayne, and Dean Martin were a few of her favorite stars. She received many replies; some of the pictures were even signed by the stars themselves.
After marrying and having children, Mericle developed agoraphobia and gradually stopped venturing outside her home. Yet she remained very connected to the outside world -- through the mail. To satiate her love for celebrity gossip and Hollywood, Mericle subscribed to tabloid magazines. Henderson recalls her mother being very knowledgeable about the world. Despite never graduating from high school, Mericle would spend time each day solving the New York Times crossword puzzle.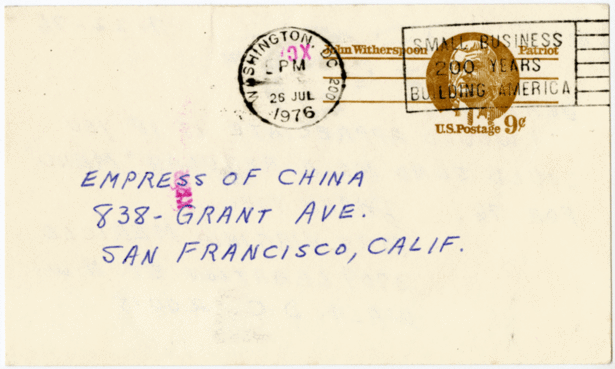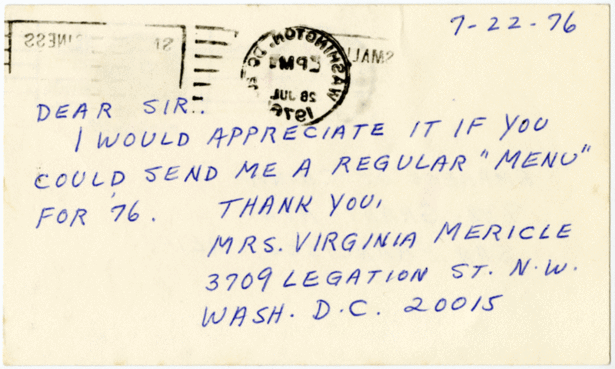 Mericle also began sending postcards to various restaurants, requesting a copy of their menu. Many obliged, and often included a personal letter or invitation in their response. Henderson remembers being involved in this hobby. When she was 10, her mother would send her to the post office, located half a mile away, to buy more postcards. When the mail was delivered, Mericle would show her children the return addresses: Los Angeles, New York, Honolulu, and beyond.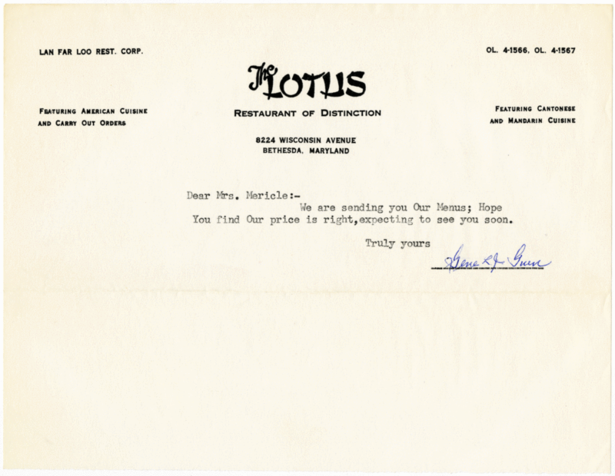 Personal note from The Lotus in Bethesda, Maryland.
To this day, it remains a mystery how Mericle located the restaurants' addresses. Before the Internet and without family or friends around the globe, she succeeded at accumulating thousands of menus from different types of restaurants. Many of these are from the same establishment, but are dated a few years apart. Craig Orr, who acquired the objects, recognized that this collection offers a rare, first-hand glimpse into how diets, prices, and foodstyles may have changed.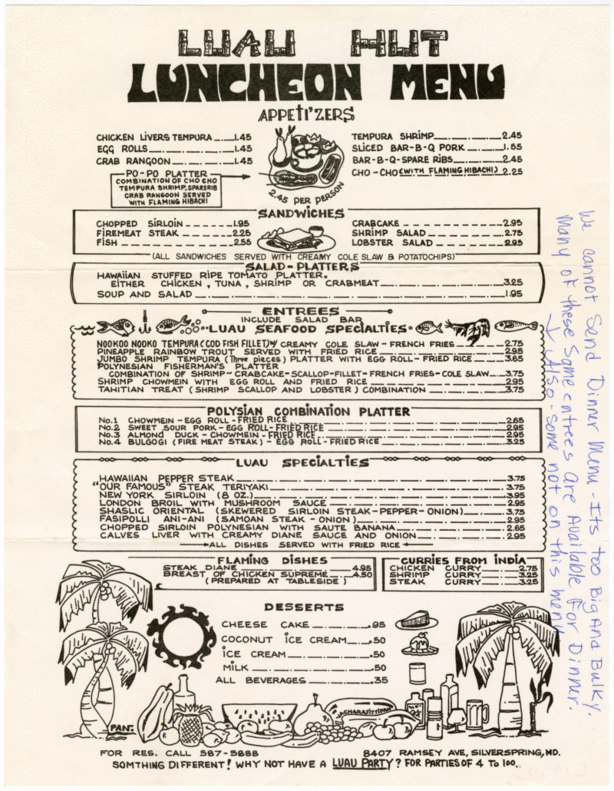 Luau Hut lunch menu with note.
Interestingly, Mericle seems to have taken little interest in the actual menus, and merely sorted them into American and international piles. Furthermore, the influx of menus had no impact on the family's culinary habits. It is quite possible that Mericle simply wanted to feel connected to the outside world, and accomplished this goal through mail correspondence. Perhaps her experience with the movie studios taught her to select institutions that would readily respond to impersonal mail solicitations.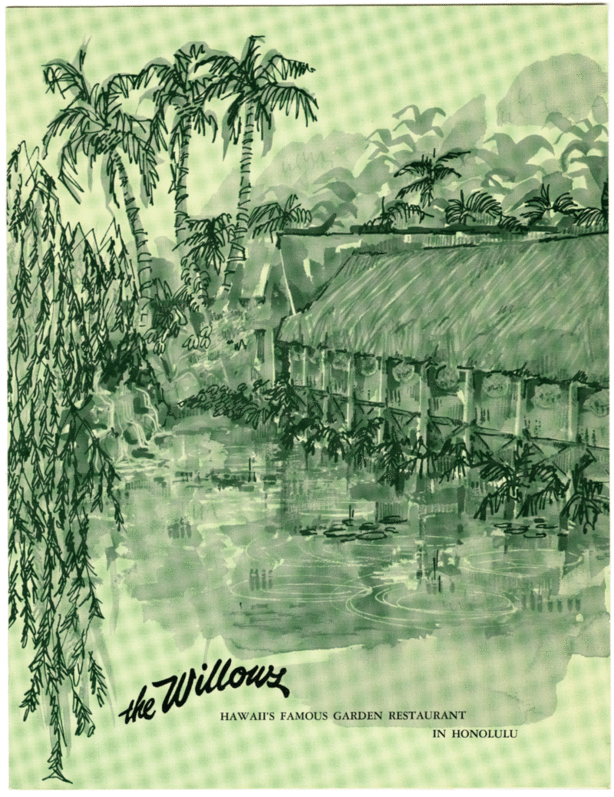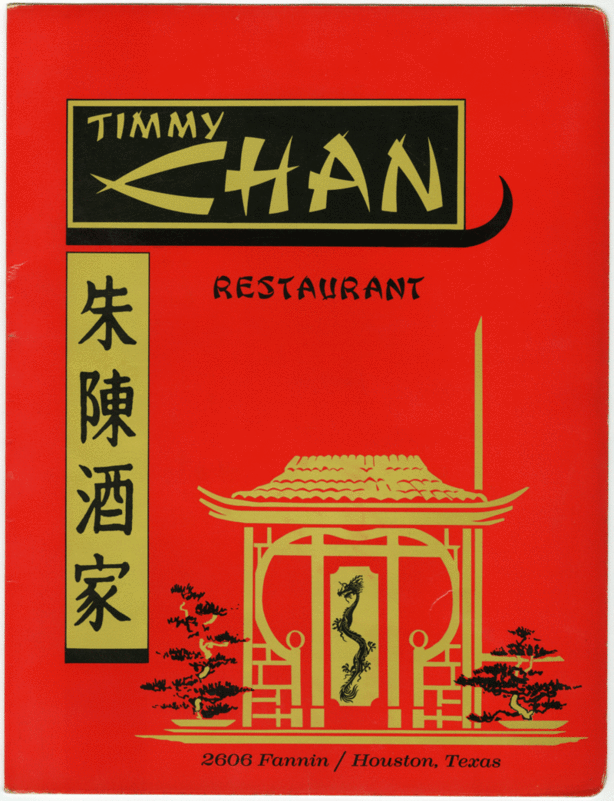 The collection is a significant addition to the museum archives, and is already being studied in anticipation of future exhibitions.
All photos courtesy of Virginia Mericle Menu Collection, Archives Center, National Museum of American History.
---
This post also appears on the Smithsonian's O Say Can You See? blog, an Atlantic partner site.