An Act of Culinary Heroism: Praise for the Winter-Weather Griller
Sometimes painful, never ideal, and often ridiculous, grilling in the elements is rarely boring. And it definitely builds character.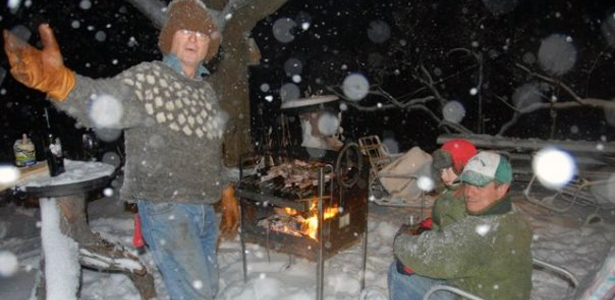 It's raining. It's cold. It's too windy. Obviously, we can't grill.
Stop. Please.
Inclement grilling stands out as one of the more entertaining cooking situations there is. It adds an element -- the elements -- to the proceedings that by necessity ups your game or, failing that, elevates the entertainment value of the whole operation for your guests. I defy you to find a grill-loving diner who doesn't crack a smile at their beer-cooler snowdrift or carefully positioned steak umbrella.
In our family we call uncomfortable things "character building," whether that be taking out the trash or trekking across Madagascar (as my subsequently-malarial brother did). If you grew up listening to our father you'd believe the mere presence of inconvenience was a virtue to be preserved. Back then it didn't matter if I agreed; the wood still had to be gathered and the fishing trip was on regardless of monsoon. But I still do believe in the charm some inconvenience begets. So I winced along with dad when he exclaimed, upon hearing that an electric rotisserie would replace his hand-scorching manual spits: "That ... THING is utterly without character. A catastrophe."
A vanguard of notable grillers similarly betray a love of inclement grilling memories by the smiles that accompany the telling of their tales. Performed outside our overly easy kitchens, grilling under extreme conditions is an act of culinary heroism, where we declare to ourselves and the elements "do your worst -- I'm going to grill." Sometimes painful, never ideal, and often ridiculous, the experiences are rarely boring. And they are definitely character building, as was one Tertulia NYC's Seamus Mullen recently relayed:
"I was in the Wind River Range in Wyoming, 16 and on an NOLS [National Outdoor Leadership School] course. We were fly fishing and caught a few trout, but just as we got our fire going to grill them, it started raining. Then that turned to freezing rain. I remember being soaked to the bone with deep chills trying to cook fish on a stick. Fuck."
Mullen is not alone. Steven Raichlen, who grew up in Massachusetts, tells stories on his show, Primal Grill, of "chipping the ice off the grill" and cooking in the snow.
Recently, a lot of grill-dom forgot that coming in from the cold with a dish that tasted nothing of the indoors was a goal in grilling. And that cooking it out there was as rewarding as eating it. Those who relished the skill required of the act took the weather as part of that day's challenge. A little wind meant wrestling the grill into the right position. Rain squalls on the horizon simply added a deadline. Cold? Snow? What better conditions for a fire?
It's winter in the east. I'm grilling.
Image: The Eisendrath family grilling in northern Michigan/Ben Eisendrath.