America's 20 Healthiest Metros
From Los Angeles to St. George, Utah, mapping the healthiest metropolitan regions in the United States based on an index that uses two key indicators -- the level of smoking and obesity.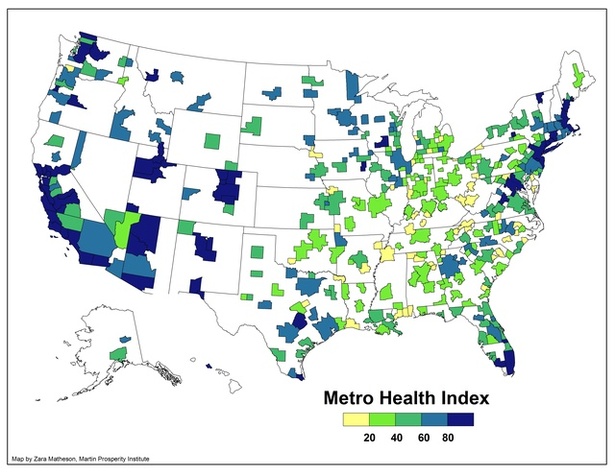 With the help of my Martin Prosperity Institute colleague Charlotta Mellander, I developed a Metro Health Index based on two key Centers for Disease Control indicators -- the level of smoking and obesity. Smoking and obesity comprise two of the most significant health problems confronting American citizens and other advanced industrial nations today.

Obesity has reached epidemic proportions: 17 percent of American children (12.5 million) and 33.3 percent of American adults (72 million) now meet the Centers for Disease Controls' criteria for obesity, percentages that have doubled since 1980.

And although smoking has been trending downward, more than 46 million Americans (about one in five adults) still smoke. The two are associated with myriad health problems, especially cancer, heart disease and diabetes. Smoking takes an average of 10 years off Americans' average life spans, while obesity reduces life-spans between five and 20 years, depending on age and race.
Read the full story at The Atlantic Cities.