Americans Are Eating Less Meat
According to U.S. Department of Agriculture, meat consumption's predicted to go down 12.2 percent between 2007 and 2012, so we have something to ask our "red-blooded" compatriots: How has our once meat-loving nation become so un-American? The Daily Livestock Report recently pulled together five decades of USDA meat data to show that meat consumption is down for all types of delicious dead animal parts. "That should come as no surprise to industry observers but the cumulative reductions of the past few years are rather shocking in historical context." It is shocking to us meat-lovers at this end of the sausage-making machine. Though beef consumption per capita has been on a big overall decline since the mid-'70s (despite the National Livestock and Meat Board declaring that beef is for dinner in 1992), consumption in every meat category -- beef, broliers (chicken), pork, and turkey -- has decreased since 2007, marked off by the black vertical line.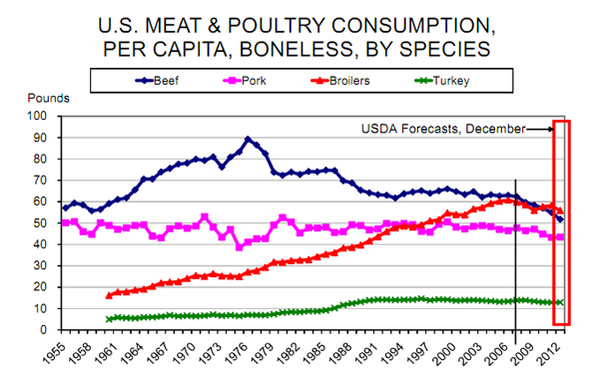 Read the full story at The Atlantic Wire.