A Postmodern Elks Club Serving Some of the World's Best Beer
Or, how a mini-mart in a Seattle neighborhood came to pour some of the most sought-after brews around--and changed the community.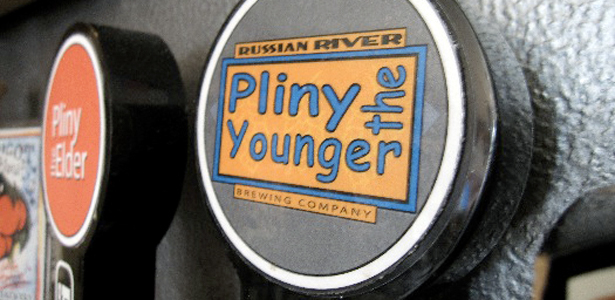 From the parking lot the convenience store looks like any other 7-Eleven knock-off: A freezer that reads I-C-E hums out front. A lottery sign in the window flashes this week's Powerball pipe dream. Open the door: See the racks crammed with Twinkies and Cheetos and lip balm and aspirin and fishing magazines and single rolls of toilet paper. Behind the register are Swisher Sweets and Camels, and the Korean shop owner who will ring it all up for you.
It takes a minute for your eyes to adjust and see that something odd and wonderful is afoot inside Super Deli Mart in West Seattle. First you notice the jeroboam of Stone Brewing's praised 15th Anniversary Escondidian Imperial Black IPA behind the counter -- and its $130 sticker. And why is that dude standing by the Hostess Cherry Fruit Pies drinking a pint of -- is it Port Brewing's Angel's Share? -- a barley wine that was given 100 out of 100 points by RateBeer.com. Now a young dad enters juggling a child and two growlers and queues to fill the jugs from taps pouring beers like Stone's new Vertical Epic Ale, a limited-release brew rich with Anaheim chiles and cinnamon.
This convenience store may be the oddest place in North America to enjoy some of the best beers around -- a quirky testament to Seattle's redoubled passion for the frothy stuff. Long a good microbrew town, the city that birthed Redhook in 1981 has undergone a craft-beer Renaissance in the last few years. Today some 30 breweries call the Greater Seattle area home, and with a raft of newer taprooms pouring the best stuff from here and around the world, residents of the Emerald City are drowning in great draughts.
This trend is hardly limited to the vanguard Pacific Northwest: More breweries now exist nationwide than at any time since the late 1800s, according to the Brewers Association; nearly 25 percent more craft breweries opened in just the last decade. While overall beer sales have been falling, the amount of beer made by the nation's craft brewers has increased nearly 90 percent since 2001. (Craft beer is still just five percent of the market, though its market share nearly doubled in the last decade.)
Min Chung saw this new revolution coming and jumped aboard. Chung, 38, is a son of Korean immigrants with a business degree, a nose for marketing, and a mouth that loves to talk and drink good beer. He can usually be found wearing his preferred uniform of cargo shorts and running shoes, a sport vest stretched a little taut across a midsection that hasn't been denied the occasional pint. Chung bought the tired convenience store in early 2009 with the vision of sprucing it up and, among the Slim Jims and Red Bull, selling bottles of high-end brew to the Amazon workers and Boeing engineers who live near Puget Sound. Soon he thought, Why not pour beer so people could taste first? "Would people pay 11, 12 bucks a bottle if they didn't know what it is?" he asks. After much back-and-forth with the nonplussed Liquor Control Board, Chung got licensed as a restaurant (the "deli" in Super Deli Mart) and started pouring beer that August -- a first in the state for a mini-mart, as far as he knows.
What Chung didn't predict is what happened next. By last summer Super Deli Mart was burning though up to 25 kegs per week as people came to the store not just to pick up a six-pack of Dale's Pale Ale and a Snickers, but just to quaff pints and hang out.
HOW A MINI-MART STARTED POURING PLINY THE YOUNGER
A big reason for this success is simply that Super Deli Mart pours phenomenal beer. Chung's half-dozen taps routinely offer ales and porters that you won't find even in most bars in suds-savvy Seattle. On a recent Saturday afternoon Chung had just tapped Seattle's Elysian Brewing Company's Dark o' the Moon pumpkin stout, a deep, chocolate-y satisfaction that would've been right at home beside a bowl of stew on a sodden Seattle night. He was also just about to kick the last of about seven "fresh hops" offerings for the autumn -- beers made the same day with straight-off-the-vine hops instead of dried cones or pellets, which gives the beer a burst of aromatics and freshness. (Steady tweets announce to regulars every new keg.)
But it is the biweekly tasting events that Chung started hosting one year ago -- tastings that feature even quirkier and harder-to-find selections -- that got people driving in from the suburbs. In just one day last summer, in an event for respected California brewer Stone Brewing, Chung tapped a Japanese Green Tea Imperial IPA; the brewery's Double Dry Hopped Ruination IPA -- the only place in Washington State to ever serve them, he says -- as well as a limited-availability chipotle pepper smoked porter. Nearly 200 beer aficionados showed up.
That was nothing: On a Tuesday night in September, 300 thirsty people swarmed the store for a tasting of 10 beers by Northwest stalwart Deschutes Brewery. The line for beer wound past the pork rinds, snaked past the bear claws sweating in their cellophane, doubled past the packs of Rough Rider studded condoms ("The Original") until the humanity -- Goths and bikers, hipsters and plumbers -- reached all the way to the beer cooler at the rear of the store. "My employees were freaking out," recalls Chung.
In the last two years Chung has served beers that are near the top of the list for any beer snob, from Dogfish Head's 120-Minute IPA, to Port Brewing's Older Viscosity, a dark strong ale aged in bourbon barrels. He's tapped beers brewed with figs. Beer with blueberries. "We even had bacon beer," he says. "I think customers tasted more of that beer than any other beer."
His biggest coup yet was last March, when acclaimed California brewer Russian River released Pliny the Younger, a triple IPA that Beer Advocate has rated the best beer in the world. All of Seattle received about 20 kegs, by one estimate (Russian River declined to provide numbers, not wanting to spur discord among bars); people nearly rioted at bars like the Dray to get a small pour. Super Deli Mart got one of the kegs.
How does a convenience store get Pliny the Younger? It's simple, says Chung: "I move huge quantities of beers for them" -- in bottles, but also in the drafts he pours and the jugs he fills. Most bars have to earn back three to four times the cost of a keg. Not Chung. "I didn't do the draft beer to make money; I did it as marketing," he says. "If I make 25 percent on my drafts, I'm super-stoked." He charges just $3 anytime for a pint of, say, Bridgeport's Hop Czar IPA -- a better deal than any Happy Hour in the city -- and $5 to $10 to fill a half-gallon growler. (Given the volume, he still makes money on the kegs, he says.) Great prices for great beer are a big reason people keep showing up. You just have to be cool with sipping your pint not far from the Tampax.
"It could be $400, $500, I'll still buy it," Chung says of a keg, "because the customers appreciate it, and I'll probably kill that keg in a matter of hours."
And then, of course, there's the beer cooler that he hopes patrons will visit. It holds many of the mart's 500 -- soon to be 600 -- different beers and barley wines, from tallboys of Colt .45 malt liquor, to hard-to-find bottles like Firestone Walker's Double Jack Imperial IPA. There are porters from Hawaii made using toasted coconut, and beers that taste like crème brulee. Nearby is the 2009 Old Stock Ale from California's North Coast Brewing Company, a small, sand-colored bottle with a cork stopper atop a graceful neck -- so handsome a bottle it looks as though a genie might emerge from it. The bottle contains just over one pint of liquid, and costs $25.99.
BEER = FRIENDS
Convenience stores occupy a strange niche in our landscape. We're always grateful for them when we need them -- that midnight run for smokes, or cough syrup, or overpriced milk for the baby. Yet who doesn't feel a small relief to escape their racks of porn and their late-night flourescent melancholy? You don't linger at the mini-mart. Their whole raison d'être is speed: You get in, you get out.
That's why perhaps the most interesting thing about Super Deli Mart isn't the beer at all, but what beer has wrought: community.
Chung had larger ambitions when he tapped that first keg in 2009. "I didn't want the place to be just a convenience store, or a stereotypical convenience store," he says. He'd come to this very store himself as a child. It was part of his upbringing. He knew it had been an understated presence in West Seattle since the 1940s. "You know the old-time general store -- a drugstore that was a gathering place?" he says. "That's the type of feel I wanted."
The community seemed to crave that, too. With their pints, more and more people started to linger. Now in one corner of Super Deli Mart sits a thick fallen-cedar table courtesy of a regular that would look more at home in some Northwest-chic hotel. A regular group of up to 20 locals gather around that table every Wednesday evening to argue beer styles and grouse about the Seahawks' latest disappointment -- as if Super Deli Mart was some postmodern Elks Club.
"My wife and I have lived in the same house for 17 years, and I've never known the people on my street until we started coming here and drinking about one-and-a-half years ago," Cary Schroeder, 43, said on a recent Wednesday while having a beer with his wife, Jody. "It really has brought the neighborhood together."
A father walked in, ordered a quick pint while his daughter ate a bag of Funyons. Three thirtysomethings drank and talked next to the rack of Hostess CupCakes -- the chocolate ones with the little white curlicues on top. Regular Shannon Kingston, a 37-year-old tax attorney, set down her IPA and looked around. The front door be-booped electronically with every newcomer. The harsh fluorescence of Super Deli Mart's lighting made Kingston and everyone else look a little bit green. Nobody seemed to notice. "There's nothing like drinking a delicious beer," said Kingston, "and looking around and seeing Dom Perignon, Ho Ho's--"
"--Spam, and a plunger," finished her husband, Sean Ryon, 38, a lineman for the city. (Yes, Super Deli Mart carries Dom, for $149, part of a surprisingly large wine and cigar selection -- two of Chung's other enjoyments -- that are sometimes overshadowed by the beer.) Soon somebody brought in a Tupperware container full of pot roast leftovers for Chung, who was working late, again. It all felt very pub-like. Chad Atchison, a 35-year-old waiter who lives "about 70 feet" from here, waved a slightly unsteady hand around the store. "I always told 'em," Atchison said, very slowly, "if you want to make a T-shirt, it should say, 'Super Deli: Bringing People Together.'"
Later that evening, when things slowed down, Chung sat down at the big table and took a breather. People want him to get a big-screen TV, he said. "I probably won't," he added, "because people then won't talk to each other."
As he spoke, a sign on the window behind him advertised his next event: a holiday champagne and sparkling wine tasting.
The irony of all this? Super Deli Mart's biggest seller is not a fancy beer or champagne, but the Silver Bullet -- Coors Light.
It is, after all, still a convenience store.
Image: Russian River Brewing Company.